UK pay rises at record low, says Vocalink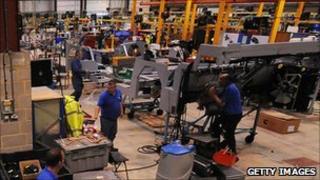 Private sector pay at UK listed companies has risen at the slowest rate on record, a survey suggests.
Earnings rose at an annualised rate of just 0.5% in the three months to February, according to the Vocalink FTSE 350 index.
The rate is well below consumer prices index (CPI) inflation, which is currently running at 4%.
Manufacturing employees were hardest hit, seeing a sudden 0.6% shrinkage in pay packets during the period.
The findings "corroborate [Bank of England governor] Mervyn King's view that UK households are currently being subjected to the most prolonged squeeze on real incomes since the 1920s", said Marion King, Vocalink's chief executive.
"The outlook for the consumer remains bleak this year and this could place significant downward pressure on growth."
The index is compiled by Vocalink - which provides payments services to banks - along with the Centre for Economic and Business Research, using salary payment data from over 200 of the FTSE 350 companies.
The slow rise in private sector earnings contrasts with a 1.3% increase in public sector take home pay during the same period, according to the research group, which also surveys 600 government organisations.