Deutsche Post 'optimistic' over economic recovery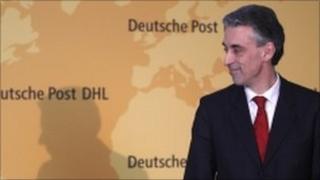 Deutsche Post has returned to profit in the fourth quarter and says the improving global economy has boosted business.
The company, whose businesses include DHL, made a fourth quarter net profit of 487 euros ($674m; £416m).
It made a loss of 283m euros in the same period a year ago.
Deutsche Post said earnings growth would continue in the coming years, as long as the global economy recovered further.
The firm's chief executive, Frank Appel, said: "We remain fundamentally optimistic about the economy."
He added though that there were concerns over the impact of Europe's sovereign debt crisis and political strife in the Middle East and North Africa.
Spain's credit worthiness suffered another setback on Thursday after rating agency Moody's downgraded it one notch to Aa2.
Deutsche Post is Europe's biggest mail and express delivery company, with operations in fast-growing markets such as Latin America, the Middle East and Asia.
It also runs business mail services in the UK.
Full-year net profits for 2010 were 2.5bn euros, up from a 644m euro profit in 2009.
Heavy restructuring costs depressed profits in 2009, and the sale of its Postbank subsidiary in 2010 helped to swell profits last year.