BMW in record profits helped by strong sales in China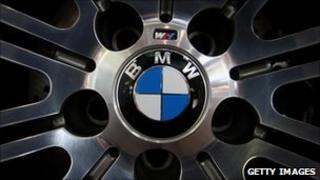 German carmaker BMW said it made record profits in 2010, helped by strong sales growth in China, and forecast another record-breaking year in 2011.
Sales to China, Hong Kong and Taiwan jumped by 85.3% over the year.
The luxury carmaker's 2010 net profit soared to 3.23bn euros (£2.75bn, $4.45 billion) from 210m euros in 2009.
BMW still sells most of its vehicles within Germany, selling 267,160 last year, just ahead of the US with sales of 266,580.
China, Hong Kong and Taiwan imported 183,328 vehicles.
BMW's revenues were up 19.3% to a record 60.48bn euros.
The company's chairman, Norbert Reithofer, said in a statement: "We are extremely pleased with developments over the past financial year."
The company is forecasting record sales again this year and is aiming to sell at least 1.5 million vehicles.
Its results follow those of rival luxury carmaker Audi, whose results this week also included strong sales in China.
Audi was also upbeat about its prospects for 2011.