Consumers warned about April tax shock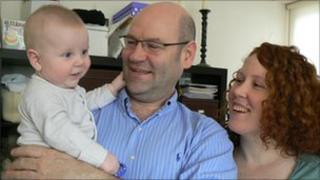 All 29 million workers in the UK could be in for a financial shock at the beginning of next month.
The charity Credit Action has identified 45 tax and benefit changes which take effect on 6 April.
Many households will be hundreds of pounds a year worse off, with better-off families hit the hardest.
The average loss to families will be £200 a year, coming on top of a £680 loss after changes in January, which included the rise in VAT.
The figures were calculated by the Institute for Fiscal Studies (IFS).
Belt-tightening
Sharon Webb and her partner Andy are typical of those who are being forced to adjust their lifestyle as a result.
As middle-earners, they can expect to be at least £1,000 worse off after this year's changes.
Sharon already shops in Oxfam for clothes, and relies on second-hand items for her baby, Oscar.
She has taken to cutting her own hair, rather than go to the hairdressers.
"We're not picking coal off the street," says Sharon.
"But there is a squeeze. And a sense that there's more to come. We're going to have to tighten our belts a little bit more."
Income tax changes
The biggest change for most people next month will be income tax.
On the positive side, half a million people will be taken out of the tax bracket altogether.
That is because the amount anyone is allowed to earn before paying tax rises from £6,475 to £7,475.
But on the negative side, 750,000 more people will pay tax at the higher rate of 40%.
That is because the higher rate threshold has fallen from £43,875 to £42,475.
National Insurance changes
As far as National Insurance contributions are concerned, all those who qualify will pay an extra 1%.
The employee contribution rate is rising from 11% to 12%.
But higher earners pay an additional rate as well.
Until now, employees had to earn over £844 a week to pay that additional rate.
But from 6 April, anyone earning more than £817 a week will pay.
And instead of the present 1% contribution rate, those higher earners will pay 2% instead.
Taking both the tax and NI changes into account, the IFS estimates than anyone earning more than £35,000 a year will be worse off.
'A bit of a shock'
Altogether, the money charity Credit Action has identified many other changes which will come in on 6 April.
In addition to tax and National Insurance, there are changes to working and child tax credits.
Child benefit will be frozen for three years, before being phased out for many families in 2012.
Child tax credit will be reduced for some, with the baby element removed altogether.
Joanna Parsley, from Credit Action, is warning people to think now about how the changes will affect them.
"If you don't think about the changes until April, you might be in for a bit of a shock," she says.
Credit Action's full report is now available at creditaction.org.uk.
Other hardships
As if the tax and benefit changes were not difficult enough, millions of households are also being squeezed by inflation.
Energy bills have risen sharply this year.
The rise in VAT to 20% in January has had a knock-on effect on inflation, hitting restaurant bills, new cars and alcoholic drinks.
The price of petrol and diesel has risen dramatically, with the duty still due to rise by 2% above inflation in the forthcoming budget.
All this at a time when many household incomes are frozen, or even falling.
Lee Healey, of IncomeMax, advises people to act now.
"From an income perspective, can you maximise your income? So look at the benefits, the tax credits and the various schemes to see if you're eligible for those."
He also advises trying to cut household spending too.
"Can you switch tariffs to a cheaper rate for your gas and electricity? Can you get help with your water bills?"
In the meantime one big debt charity will report next week that many households will struggle to pay their debts in the months ahead.
It says families will be especially vulnerable, with the pain spreading to middle-earning families in particular.