Global carmakers fear Japanese parts shortages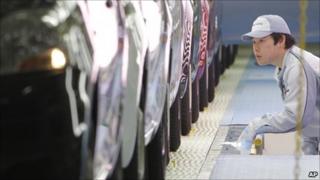 With Japanese carmakers closing their factories following the earthquake and tsunami, investors instantly wanted out.
So on Monday the value of shares in Japanese automotive companies tumbled as investors started selling up.
Initially, many of them bought shares in carmakers elsewhere in the world instead - based on the logic that non-Japanese automotive firms would fill the gap left by Japanese carmakers unable to deliver.
"Hyundai and Ford now are good substitutes for Toyota's cars, and even more so, Caterpillar tractors made in China can replace Komatsu's land movers," according to Peter Morici, a business professor at the University of Maryland.
"Globalisation offers Japan's export customers alternatives they might not have enjoyed a decade or two ago."
Parts shortages loom
But during such a crisis as this, globalisation also poses enormous problems.
By now, investors have come to realise that the difficulties of companies such as Toyota, Honda, Nissan and Mazda are similar to those faced in Detroit or Chennai, in Sunderland or Seoul.
The harsh truth in this fiendishly complex and globally interconnected world of motoring is that they are all facing parts shortages - if not now, then probably very soon.
"The suppliers' production stoppages could easily affect global production," according to Paul Newton, motor industry analyst with IHS Global Insight, "given that several of the affected component plants supply the [carmakers'] facilities around the world with systems and components that may not easily be shifted to other manufacturing locations."
'Tragic loss'
The north-east of Japan, where the earthquake and tsunami caused the most devastation, is home to many of the country's car part makers, supplying carmakers not just nearby but across the world.
Toyota president Akio Toyoda points out that "those directly hit and vastly affected include our dealers, suppliers and numerous other partners".
Japanese specialist firms have for years been supplying components such as batteries for hybrid cars, electronic components or engine parts.
But with many Japanese roads and ports in tatters, and with their own manufacturing operations halted - in some cases because the component manufacturers' own suppliers are down, or because of power shortages - it is clear that many parts will simply not be made in the near future.
"The tragic loss of life and homes across the region means that even if infrastructure and facilities can be repaired, whole communities that have supported many of these plants have been uprooted or are still unaccounted for," says Mr Newton.
Complexity
And even if the components were to be made, getting them shipped - whether to factories in Japan or out of the country - would prove difficult.
This could prove very difficult for manufacturers, and the problem could last for a long time.
"A finished car requires about 20,000 parts," observes Tong Yang Securities' motor industry analysts.
"So it is hard to predict when production [in Japan] may resume until we can ascertain which auto parts makers have been hit and to what extent."
It is equally difficult to predict when parts shortages will begin to bite around the world.
"We have an inventory of two to three weeks," says an official at Renault-Samsung in South Korea, which produces Sunny and Almera cars on behalf of Nissan and imports about a 10th of its parts from Japan.
"So far we are doing fine, but should the crisis be prolonged it would cause an emergency."
In the US some carmakers have already cut back on overtime to preserve parts, according to the industry magazine Automotive News.
And with parts shortages looming, investors have started shedding shares in anything with even the faintest whiff of the motor industry - sending shares in carmakers lower pretty much across the board.
Uncertainty
Investors often over react, and on this occasion they appear to have done so once again, according to Nomura, which describes the reaction as "overdone".
The sell-off of shares in Toyota and Nissan has been particularly severe, shaving 8% and 10% off their market values.
However, operating profits at the two carmakers should fall no more than 2.4% as a consequence of the earthquake and tsunami, Nomura's analysts predict, although they do not expect investors to listen.
For the moment, the only thing investors are sure about is that much remains unknown about the global impact on the motor industry.
And many of them fear that as the situation becomes clearer, new problems will emerge.