Moody's downgrades Portugal's government debt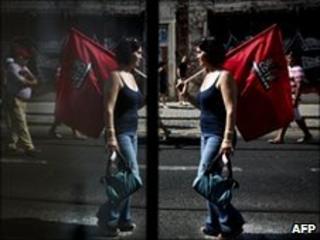 Ratings agency Moody's has downgraded Portugal's government debt rating, citing "subdued growth prospects".
It cut Portugal's long-term government bond rating from A1 to A3.
The move comes as the government in Lisbon is trying to implement tough austerity measures to low a level of national debt.
Moody's decision is also seen as a setback to efforts by the eurozone bloc, of which Portugal is a member, to stem the group's sovereign debt crisis.
'Gloomy prospects'
On Tuesday, the international ratings agency said that Portugal's prospects remained gloomy, despite the introduction of the austerity package.
"The cost of market funding is likely to remain high until the deficit has been reduced to a substantial level and the prospects for economic growth have improved," Moody's said in a statement.
It is the second time in less than a year that Portugal's debt has been downgraded. Last July, Portugal's sovereign debt rating was cut by two notches from the maximum AA2 to A1.
A sovereign debt downgrade tends to make it more expensive for a government to raise money on the international markets.