Is Tokyo Electric Power becoming Japan's BP?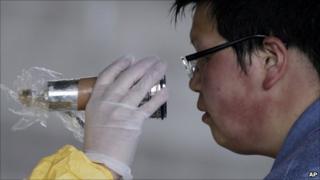 The unfolding disaster at Japan's Fukushima nuclear power complex has focused attention on the site's operator - the Tokyo Electric Power Company.
It is hard not to have some sympathy for Tepco, as the company is known, as its engineers are racing to avoid catastrophic meltdowns at nuclear plants in Japan.
In public relations terms it is much like oil giant BP - which found itself at the centre of a storm when a blast at a rig killed 11 people and caused the worst oil spill in US history off the Gulf of Mexico.
Communications must rank low on the list of priorities as it battles to contain the unimaginable amid the devastation caused by a massive earthquake and the subsequent tsunami.
High-level concerns
Tepco is the largest power utility in Japan.
In normal times, it supplies about a third of the country's electricity. Its patch covers some of Japan's most densely populated and economically strategic areas, including the capital Tokyo.
But Tepco, which has lost half its market value since Friday, has a track record of failing to properly divulge failures in safety standards.
Critics accuse the company of failing to communicate.
Japanese Prime Minister Naoto Kan is said to be among the critics.
He was furious on Tuesday when the company apparently failed to inform him of an important development, a new fire breaking out at one of the affected nuclear plants, until an hour after it happened.
Experienced in nuclear
Tepco ranks as the world's fourth largest commercial power utility - after three European operators: E.ON of Germany, Electricite de France and Germany's RWE.
Last year, Tepco made a profit of 134bn yen ($1.66bn, at current exchange rates) on a turnover of 5 trillion yen ($62bn).
Tepco was one of nine Japanese regional electricity providers set up in 1951. The firm was set with the initial task to create a reliable power infrastructure for a country rebuilding its economy from the ground up after World War II.
Currently, Tepco employs some 38,000 people.
It is one of the world's most experienced operators of nuclear power stations. Electricity generation began at the Fukushima complex, scene of the current crisis, in March 1970.
At that time, Japan saw nuclear power as a major part of the solution to keeping the lights on and the factories running, in what was then an emerging economic superpower hobbled only by a lack of indigenous natural resources.
Japan was keen to develop nuclear power to offset its dependence on imported oil and coal. More recently, expanded nuclear capacity power has been touted as a way of achieving targets for cutting greenhouse gas emissions.
Closed plants
But it has to be said that Tepco has a chequered history in divulging information about its nuclear operations.
In 2002, the Japanese government accused Tepco of false reporting in routine inspections of nuclear facilities and of concealing information about safety lapses over many years.
The company had to close all its boiling water nuclear reactors - the sort caught up in the current crisis - until further inspections had taken place.
Tepco eventually admitted to 200 occasions in which information had been falsified between 1977 and 2002. Further revelations of past concealment emerged five years later.
As the company struggles to contain a crisis seen on a par with the Three Mile Island reactor meltdown in the US in 1979, it is easy to see why some Japan observers suspect Tepco is less than enthusiastic about revealing the full extent of what it knows.
A Tepco spokesman said on Wednesday that 20 government officials had moved into the company's Tokyo offices.
BP suffered a huge loss to its prestige, lost its chief executive and put $40.9bn set aside for charges relating to the giant oil spill in the Gulf of Mexico.
What will be the outcome for Tepco?