General Motors hurt by Japan car parts crisis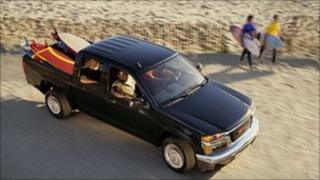 US carmaker General Motors (GM) has closed a factory due to a parts shortage caused by the crisis in Japan.
The automotive giant's customers should not notice. The automotive giant said it has already produced enough GMC Canyon and Chevrolet Colorado pick-up truck to last it for about 70 days.
US rivals Ford and Chrysler have not been affected by parts shortages, at least not yet.
But Toyota and Subaru have curbed production in the US to preserve parts.
Earlier, the Japanese carmaker Nissan said it had resumed car production in Japan.
Separately, in Europe GM has appointed a new chief executive for its Opel and Vauxhall brands.
Karl-Friedrich Stracke will take over from Nick Reilly, who will remain head of GM Europe.
Veteran automotive executive Mr Reilly will thus also oversees the Cadillac and the Chevrolet brands in Europe.
Mr Reilly will also chair GM Europe's supervisory board.
"The European market and our European operations are important to General Motors," said Dan Akerson, chief executive of GM.
"These moves will ensure that we have the best leadership in place as we continue toward growth and profitability."