Former Goldman Sachs Rajat Gupta director sues SEC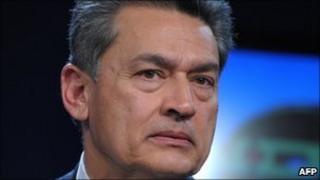 Former Goldman Sachs director Rajat Gupta has sued the US Securities and Exchange Commission (SEC).
In a civil law suit, the SEC had accused Mr Gupta of revealing corporate information to hedge fund manager Raj Rajaratnam.
Court papers said Mr Gupta "stands ready to mount a defence against each and every one of the commission's charges".
Mr Gupta felt he had not been granted his "statutory and due process rights".
Attorney Gary Naftalis said in the court papers that the SEC had launched a "flawed case premised in large part on unreliable evidence being used in an attempt to bring down a man of sterling reputation and remarkable achievements without the procedural safeguards historically accorded to all persons similarly charged".
A civil lawsuit deprived him of his right to a judge and jury, he argued.
Buffett shares
The SEC had accused Mr Gupta of leaking details about Warren Buffett's $5bn investment in Goldman in 2008 to the Galleon hedge fund founder Raj Rajaratnam.
Mr Buffett's investment helped shore up Goldman during the financial crisis.
Separately, Goldman said it will buy back the preferred stock from Mr Buffett.
Mr Rajaratnam is accused of insider trading.
Both men deny any wrongdoing.
Eight years
In yet another separate development involving Goldman Sachs, a former computer programmer who stole secret code used in the bank's computer-driven trading system has been sentenced to eight years in prison.
Sergey Aleynikov, 41, was convicted of stealing trade secrets and transporting stolen property across state lines.
"I very much regret the foolish thing of downloading information," he said.