Tiffany expects profits to be hit by Japan events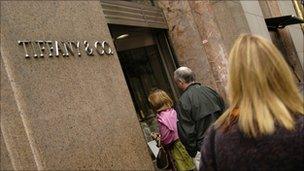 Upmarket jeweller Tiffany & Co has lowered its profit expectations for its first quarter of 2011 because of recent events in Japan.
The US firm said it expected sales in Japan to fall 15% during the period due to store closures and reduced opening hours after the earthquake and tsunami.
Tiffany's sales in Japan have been gently sliding for years but still make up nearly 20% of the total.
Japan is the company's second largest market.
In a statement chief executive Michael Kowalski said that most of the stores in Japan which had closed after the earthquake had reopened over the weekend.
Tiffany expects sales to grow this year in all of the regions it operates in except Japan, where it predicts a "mid-single digit" decline.
It said it was unable to provide meaningful forecasts about sales in Japan beyond the first quarter and therefore had not adjusted its sales or earnings plan for the remaining quarters of 2011.
Tiffany is one of the US retailers most exposed to Japan's economy and appetite for luxury goods.
The company has 55 stores in Japan, almost a quarter of its stores worldwide.
"It could have been much worse," said analyst Paul Swinand from investment firm Morningstar.
Growth in emerging markets such as China and Brazil should make up for the problems in Japan, he said.
Last year, Tiffany, famous for its diamond engagement rings, increased its sales by 29% in its Asia-Pacific market, excluding Japan.
The key source of growth for the luxury sector is China.
According to a research note released by Deutsche Bank last week, China should provide more than half of the industry's total gains over the next 10 years.
During the fourth quarter, Tiffany opened four new stores in China, including two in Shanghai, but permanently closed two in Japan.
Tiffany also revealed an increase in its annual profits to $185m (£113.6m), up from $138m (£84.8m) in 2009.
The news sent its stock up 5% to $60.22 a share.
Related Internet Links
The BBC is not responsible for the content of external sites.