Ofcom launches next-generation 4G consultation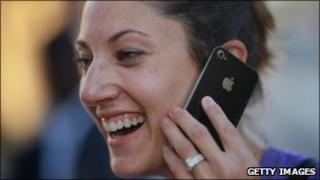 The telecoms regulator has launched a consultation on how best to sell off the rights to the next generation of mobile wireless networks.
The auction of the fourth generation, or 4G, spectrum will be the largest ever, equivalent to three quarters of the mobile spectrum in use today.
The last time an auction was held, for 3G in 2000, it raised a record £22.5bn for the Treasury.
The auction itself is expected to start in the first quarter of 2012.
The additional spectrum to be sold off should mean faster speeds for downloading data - such as music and movies - to phones as more capacity is made spare for all the networks.
The actual parts of the spectrum being sold - at the 800MHz and 2.6GHz bandwidths - will include parts of the wireless spectrum historically used by analogue TV, which is being switched off as digital is rolled out.
"The auction is not only critical to the future of the UK mobile telecommunications market but it is also of significant importance to the wider economy. It will support a wide range of data services that are fast becoming essential features of the modern world," said Ofcom chief executive Ed Richards in a statement.
Competition concerns
Smartphones such as the iPhone, Google Android and tablet devices are big users of bandwidth, which means there has been a squeeze on what is left.
Ofcom has even allowed mobile phone carriers like Vodafone and O2 to use parts of the old 2G network until more of the spectrum is made available.
The UK network Three has complained about that, and about its fears for the auction.
The country's smallest mobile phone operator is worried that its rivals will outbid it at auction, buying up larger slices of the available bandwidth and squeezing Three out of the market altogether.
The regulator said it would impose a cap on the amount of new airspace companies could win at the auction to try to ensure fair competition.
"The use of spectrum caps is bitterly controversial since they effectively distort what is otherwise a market mechanism designed to allocate spectrum to those who value it most," said Ovum analyst Matthew Howett.
"However, Ofcom is essentially stuck between a rock and a hard place. If they were to leave the auction open they risk a player leaving the market and further consolidation; possibly to the detriment of consumers," he added.
Rural coverage
Ofcom said it would make any successful bid conditional upon a licensee agreeing to extend their coverage to 95% of the UK population.
Ofcom points out that current mobile coverage, particularly 3G coverage, is less comprehensive in rural areas than in urban areas.
The regulator said it wanted to ensure more "uniformity of coverage" for 4G services.
Ofcom proposed a supplementary obligation that would mean licence holders would also have to cover a certain proportion of the population in rural areas.
3G auction
Ofcom will also hope to avoid the mistakes of the last auction in 2000.
Then, the biggest bid for 3G was from Vodafone, which paid £5.96bn.
BT Cellnet - which eventually became O2 - paid £4.03bn. Orange paid £4.1bn and One2One paid £4bn.
But most carriers and observers believe that operators overpaid for those licences and were not able to invest in the infrastructure as a result of paying those huge fees.
The German government raised 50bn euros ($71bn, £43.6bn) at its 3G auction in 2000, but managed to raise only 4.3bn euros at its 4G auction last year.
Already behind?
Japan and the US already have 4G networks - though these are often defined in slightly different ways by different countries.
The biggest mobile phone companies in the US - Verizon Wireless and AT&T - back a 4G network powered by Long Term Evolution (LTE) technology.
Verizon launched its LTE network in December, promising speeds up to 10 times faster than its current 3G network. It is planning full nationwide coverage by 2013.
AT&T this week bought T-Mobile USA from Deutsche Telekom for $39bn (£24bn), creating the largest US wireless network.