Nuclear fears: The impact on Japan's food industry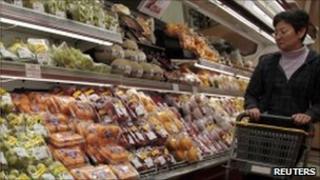 The food industry in Japan is under pressure, as the government adds to the list of produce that has excessive levels of nuclear radiation.
Shipments of leaf vegetables, spinach and milk from the area around the stricken Fukushima plant have been halted.
The government says the situation is not at a stage where people should be worried.
But what effects will this have on the demand for Japanese food products, both within Japan and abroad?
Export growth
Japan is not a major food producer. Its substantial exports include seafood, dairy products, fruit and vegetables.
The main markets for these Japanese food products are Hong Kong, the US and China.
The government has said milk and some vegetables have been affected by radiation and are now facing bans on domestic sales.
While radiation has affected some food products in the wake of the damage caused by the earthquake and tsunami, the World Health Organization (WHO) says there is no cause for alarm in countries that import produce from Japan.
"For food in international trade, we believe the risk is extremely low," WHO spokesman Gregory Haertl said.
Mr Haertl said that the problem of radiation had surfaced only in the past few days.
"The food which has been exported was sent before the event took place," he added.
Mr Haertl also expressed satisfaction with the response of the government in dealing with the problem.
"Based on the measurements taken by local authorities, they have instituted some measures that are proper and good," he said.
However, other food products such as seafood are still under investigation.
"It is not possible to estimate to what extent marine life will be affected until contamination data are collected from the affected areas and from seafood harvested from the affected areas," said the WHO on its website.
'Small industry'
Food products accounted for only 344bn yen ($4.2bn; £2.6bn) of foreign sales in 2010.
That is only about 0.5% of total exports, according to Moody's Analytics.
"On the trade front, large importers of Japanese food such as China and Taiwan are conducting stringent tests to assess the contamination problem," said Matthew Circosta of Moody's Analytics.
"Concerns that the fallout could see countries shift food consumption away from Japan are unlikely to significantly damage export growth," he added.
Japan is actually a net importer of food. It imports about 700,000 tonnes of rice annually, mostly from the US and Thailand.
Gross agricultural production is only around 4% of total production.
"It really is a small industry in Japan on the production side and as an export market," said Mr Circosta.
Domestic demand
Most of Japan's agriculture produce is consumed domestically.
Analysts say radiation fears are more likely to cause a dip in consumer confidence and affect domestic demand.
"Weaker food demand would hit retail sales and intensify consumers' caution," said Mr Circosta.
"More worrisome is if consumers' deflation expectations grow, prompting more households to postpone purchases in anticipation of lower prices," he added.
That would make life difficult for the 1.93m people employed in agriculture, forestry and fishing.