Coventry at work: Tracking jobs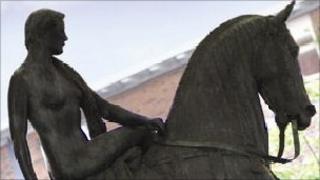 We've had a blizzard of headlines in recent months about job losses across the public sector.
The government's Office for Budget Responsibility estimates that 330,000 public sector workers could lose their jobs over the next four years.
Coventry City Council alone announced that it may have to lose more than a thousand people, many of them in the first year of the spending cuts.
But what's the reality on the ground? We're trying to find out in Coventry.
We've been getting jobs data from six public sector bodies, which represent 70% of public sector employment in the city. They're supplying figures on a quarterly basis.
Limited lay-offs
The first set of results is surprising, at least when it comes to compulsory redundancies so far.
The public sector organisations taking part have reported only 15 job losses involving permanent staff between October and December 2010.
So why such a small number?
Public Sector bodies have been trying to minimise the pain with early retirement and voluntary redundancy schemes.
Most of our six bodies say they are moving employees around their organisations to fill vacant posts; anything to prevent compulsory redundancies and to retain skills, knowledge and experience.
At least one employer had deliberately kept vacant dozens of its posts.
City council
The biggest public sector employer in Coventry is the city council. Between October and December 2010, it says no member of its permanent staff was made compulsorily redundant, although 30 thirty workers had their short-term contracts terminated early.
Also, 281 workers are leaving through voluntary redundancy and early retirement schemes.
These are still real jobs being lost, involving workers who may have had no intention of leaving their posts. Many who walk away with redundancy deals will still be seeking new jobs.
About a further 370 want to take one of these deals. The trouble is that the council cannot accept their applications because it would mean those individual posts would have to disappear, and the council says it cannot do without those posts.
So, what the council is trying to do is to match people who would like to take redundancy, with jobs that need to disappear.
In other words, they're trying to redeploy people who are trying to find another council role, into the roles they are concerned about losing.
This means the person in the post is then able to take a voluntary redundancy deal.
It's known in the human resources business as "bumped redundancies".
Reduced budgets
This is what local councils are having to grapple with in the aftermath of the government's spending review.
In the last three months of last year, it's clear that Coventry City Council, along with the other public sector bodies, was still getting to grips with a massively reduced budget.
But given the scale of the savings to be made, in the first year alone, compulsory redundancies cannot be ruled out in future.
The expectation seems to be that job losses will rise sharply. For some this will happen after the end of this month and for others these are expected from 2012 onwards.
Evidence from the private sector suggests optimism among many for the future and that some may be starting to consider how they might pick up the slack from the public sector. However, others are concerned about the detrimental impact of the cuts to public services.
We'll be giving you a regular update of our public sector jobs tracker, as soon as we collate our quarterly figures.
Public sector organisations which have agreed to take part: