Egypt stock market to reopen on Wednesday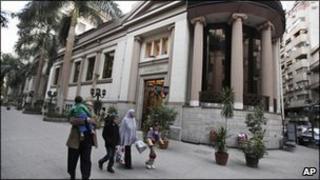 Egypt's stock market is set finally to reopen on Wednesday following nearly two months of closure during the ousting of President Hosni Mubarak.
The market is widely expected to fall, as investors react to the economic turmoil wrought by the uprising, including widespread labour unrest.
Several leading businessmen are under investigation for corrupt practices under the previous regime.
The reopening is coming sooner than the government wanted, a minister conceded.
The situation in the country had "not reached the improvement that we were imagining, even though matters are improving every day," according to finance minister Samir Radwan.
Automatic exclusion
The decision to reopen was seemingly forced by the rules of the Morgan Stanley Capital International Index (MSCI), a benchmark that tracks the value of global stock markets and that is widely used by international investment funds.
If the reopening had been delayed a day longer, Egyptian companies would have been automatically excluded from the MSCI, forcing many foreign investors to sell their stakes at the first opportunity.
The government has taken a number of steps to support the market, including:
a shorter trading day for the first week
an automatic trading suspension if the market falls by 5% or 10% within the same day
a 250m Egyptian pound ($42m, £26m) government fund that can be invested in the market.
The bourse's chairman resigned before the reopening and a temporary replacement chairman has been appointed for the next six months, according to a decree by the country's new prime minister, Essam Sharaf.
"This decree was issued upon taking all required procedures to guarantee its safety opening and trading," said the Egyptian cabinet in a statement on its website.
Corruption
The market had fallen by 18% in the two days before its closure on 27 February, as investors reacted to the eruption of protests in the country.
Investors are concerned by the damage to tourism and foreign investment caused by the political uncertainty and the violence seen during the transition.
Many big Egyptian companies may also be hit by their links with the old regime and by workers demanding higher wages and permanent contracts.
Strikes closed many banks during recent weeks.
The reopening had been delayed at least five times because of the continuing turmoil.
The new government also wanted to put in safeguards to stop certain individuals from being able to liquidate their assets.