Budget: IFS sees 'growth threat' to borrowing forecast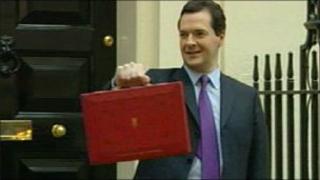 The government's prediction of a return to fiscal health by 2014-15 hinges on the "unobservable" growth potential of the economy, a think tank has warned.
The forecast return to surplus in the latest budget is even more dependent on a pick up in growth in 2013, said the Institute for Fiscal Studies (IFS).
It comes after the Office for Budget Responsibility (OBR) cut its growth projections for the next two years.
The IFS said the planned cuts over the next four years remain "formidable".
The budget was "not a fiscal event" the institute said in its initial response, noting that the net impact of the announced tax cuts and spending cuts on the public finances was minimal.
"Given these forecasts, it is clear why a Chancellor, sticking to his plans, did not feel able to engage in a net giveaway," said IFS director Paul Johnson.
"Going forward, he is going to be uncomfortably dependent on the judgments that the (independent) OBR makes over the (unobservable) potential output of the economy."
The OBR - whose forecasts the Chancellor has committed himself to use - admitted that the main risk to the government's finances was "the possibility that we have over-estimated the amount of spare capacity in the economy, now or in the future".
For the latest budget, the public finances watchdog cut its growth forecast for the current year to 1.7% from 2.1% previously, and for 2012 to 2.5% from 2.6%.