Irish economy shrinks 1.6% as spending and exports fall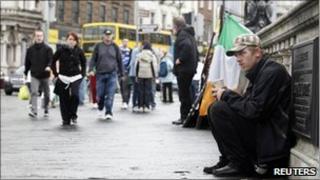 The Republic of Ireland's battered economy shrank by 1.6% in the fourth quarter as consumer spending and exports fell.
The contraction compared with a 0.6% expansion in gross domestic product in the third quarter, according to the Central Statistics Office.
The fourth quarter figure meant that the economy, supported by a eurozone bail-out, shrank by 1% for the year.
Consumer spending fell 0.4% on the quarter and investment dropped 2.3%.
On the quarter, exports fell 1.4%, while imports slipped 0.1%.
The Irish property and banking collapse brought the country close to financial meltdown.
Dublin has so far been forced to take 34bn euros (£29.56bn; $48bn) from a European and IMF-funded bail-out package and impose austerity measures.
The results of stress tests on the Republic's banks are due on 31 March to determine how much more capital they need.