Tesco caps Price Check offer after paying refunds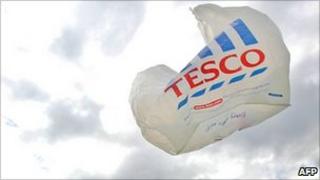 Supermarket giant Tesco has put a cap on its offer to refund double the difference on products that can be bought for less at Asda.
After some customers found better deals at Asda and claimed money back through its Price Check offer, Tesco introduced a £20 maximum refund.
Tesco said refunds were paid to customers who used prices on promotions at Asda to compare with its own prices.
This was not the point, it said. Asda said Tesco should stand by its claim.
'Ingenuity'
Tesco said that fewer than one in 5,000 customers had claimed more than £20. The group told the BBC that 99.9% of customers would not be affected by the cap.
"The vast majority of our customers who use Price Check find that Tesco is cheaper than Asda," a spokesperson said.
"A very small number of people have used Price Check just to seek out products which a competitor has on promotion and to make some money out of our guarantee.
"We commend their ingenuity, but this isn't why we set up the guarantee."
A spokesperson for Asda told the BBC: "Customers aren't daft, so if you're going to make a big bold price claim, you'd better be able to back it up or they'll quickly find you out."