House prices down in most regions, says Land Registry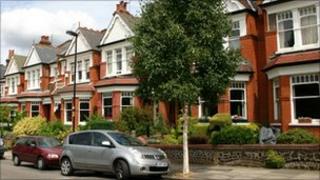 Average house prices in England and Wales saw an annual fall in February, the Land Registry has said, but prices in London and the East of England rose.
The body said the average home in England and Wales fell in value by 1.7% in the year to February, to £162,215.
But house prices in London were up 3.2% in the year, and in the East of England increased by 1%.
House prices overall fell by 0.8% in February compared with January, the Land Registry found.
Regional differences
The Land Registry's figures for England and Wales are considered to be the most comprehensive of house price surveys, although the publication does lag behind other surveys.
The Land Registry breaks down house prices to property types.
This showed that detached homes fell in value by 0.3% over the year to February, semi-detached dropped by 1.6%, terraced homes fell by 2.7%, and flats and maisonettes dropped by 2.2%.
Regionally, the biggest fall in prices over the year was by 7.1% in the north-east of England. The region also had the biggest month-on-month fall, dropping by 4% in February compared with January.
London had the biggest annual rise in prices, although properties in the capital did drop in value by 0.5% in February compared with the previous month.
Most house price surveys have recorded a sluggish start to the year in the housing market.
The Council of Mortgage Lenders said the market was "stuck in a rut" and that the rest of the year would be "challenging".
Separate government figures, published earlier in the month, showed that annual house prices were down 3.2% in Scotland, and down 14.1% in Northern Ireland in January.