Thomas Cook to take £20m Egypt and Tunisia hit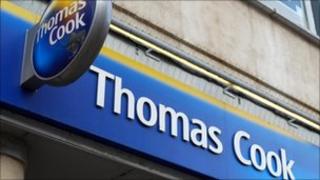 Tour operator Thomas Cook says it estimates the disruption to its trading caused by the political unrest in Egypt and Tunisia has cost it about £20m.
The company suffered about 150,000 cancellations due to the unrest, as well as the cost of repatriating tourists back home.
Business in Europe was "progressing well", the firm said, with bookings ahead of last year in many countries.
But UK trading was weaker, largely due to "fragile consumer sentiment".
In response, the company said it was taking "a more prudent approach to capacity".
The operator said it was now flying into Egypt and Tunisia from the UK, Germany, the Netherlands, France and Belgium, and would begin flights to the two destinations from Northern Europe at the end of May.
The cost of the disruption to flights would cost £15m in lost trade and £5m in repatriation costs, the company said.
It added that fuel prices had risen by about 20% since the start of the year, meaning it had to introduce fuel supplements in some markets.
The operator also said it expected to receive clearance from competition authorities for its joint venture with Russia's Intourist in May.
"Overall, the business in performing well, given the disruption caused by the unrest in Egypt and Tunisia," said group chief executive Manny Fontenla-Novoa.
"Summer bookings are ahead of last year across most segments, with particularly strong growth in our German tour operator and airline."