First Group bus company in £160m order for 955 vehicles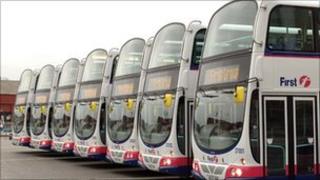 The UK's largest bus and rail operator has said it will spend £160m buying 955 new vehicles over the next two years.
First Group has placed the order with two UK bus manufacturers, Wrightbus and Alexander Dennis.
First Group estimates 200 buses will be needed to cater for extra transport demand during the 2012 Olympic Games.
The order, which First Group said was one of the UK's largest bus contracts, includes the purchase of 40 hybrid electric-fuel vehicles.
Wrightbus is based at Ballymena, Northern Ireland, and Alexander Dennis at Falkirk, Scotland.
Giles Fearnley, managing director of the company, said: "The effect of our £160m investment will help safeguard and create jobs in the UK. It demonstrates our confidence in the marketplace."
The company also said it was spending £4m refurbishing about 200 buses. First Group currently operates 8,000 buses, and most of the new order will be replacements for older vehicles.
Earlier this month, First Group shares fell after the company said it was seeing steady growth in the UK but warned that operations in the US were under pressure.
Alongside the announcement of the bus order, First Group unveiled the results of a survey which it said showed that higher petrol prices were forcing more people onto public transport.
According to the survey, 27% of respondents said they would ditch their car if petrol reached £1.50p a litre, rising from about £1.30p a litre now.
About one in seven of those surveyed said they are already using public transport instead of their car.