Uefa calls on football clubs to balance their books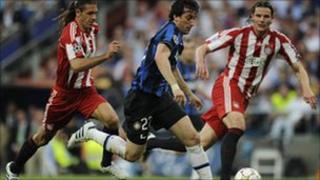 Financial fair play rules for European football clubs is a topic the average fan may be vaguely aware of, but for many the details of these new monetary regulations remain obscure.
The changes came about after concerns among European football confederation Uefa, and its president Michel Platini, about clubs making a loss year after year, with many accumulating large debts in the process.
To tackle what some have dubbed as "financial doping", Uefa introduced the Financial Fair Play (FFP) rules to try and make sure that in future clubs balance their books and break even.
Financial records will also be monitored by Uefa to ensure that creditors are paid by football clubs when they are due.
"Michel Platini is still very motivated to tackle financial excesses, which still exist in European football," says Andrea Traverso, head of club licensing at Uefa, speaking at the Soccerex football seminar in Manchester.
"It should enable clubs to grow sustainably over time."
By introducing this "financial safety net", clubs would have to act in a more financially rational manner, he said.
Own excesses
It is hoped that both transfer fees and wages, which have been spiralling ever-upwards, will now show some restraint and stability.
Over the past decade, a number of clubs borrowed heavily to try and buy success, but it appears that eventually even clubs wanted to be saved from their own worst excesses.
"The clubs, through their representative body the European Clubs Association, had been seeking ways with Uefa to actually limit their spending," says Daniel Geey, a sports expert at Field Fisher Waterhouse solicitors, who has made a close study of the new rules.
Revenue for the purpose of the "break-even" rules is taken to be gate receipts, broadcasting revenues, commercial sponsorship deals, and profit on player sales.
Outgoings include incoming player transfers, wages and other costs and operating expenses.
'Positive step'
The new rules also encourage investment in youth development and infrastructure, because the FFP laws do not include such spending as expenditure when pulling together the break-even calculations.
One Premier League club that has given a welcome to the FFP changes is Liverpool.
"We see it as a positive step, we have been growing our revenues so our [financial] means are healthy, we have reduced our debt, and are investing in youth," says the club's commercial director, Ian Ayre.
"The infrastructure element is also good for us, as we are looking at either a new stadium or an improved stadium."
Mr Ayre said his only concern was whether the rules would be properly applied, and whether sanctions would be handed out where necessary.
Sanctions
The new rules will become part of Uefa's licensing system, with a licence being mandatory to play in a European competition, although the new financial laws do not apply to domestic leagues.
From the 2013/14 season, clubs that do not meet the FFP standards, and that wish to play in Europe, may potentially be denied a licence and not be allowed to take part in the Champions League or Europa League.
Other less draconian sanctions, such as fines or reprimands, will also exist for transgressors.
However, until then there will be no sanctions for breaking the financial rules.
"The rules will therefore start to bite from the 2013/14 season," says Mr Geey.
Crucial year
Clubs need to be aware that the rules still have to be considered from the 2011/12 season onwards, however, because the 2011/12 and 2012/13 accounts will be used to determine a club's licence application in the 2013/14 season.
"The first year [of FFP] will be crucial," says Mr Traverso.
"For some clubs it will be quite challenging, others are quite close to the objectives."
Mr Ayre of Liverpool FC said the Anfield club was aware that changes were imminent, with the rules being something the club was paying close attention to.
"The [Uefa FFP] counting mechanisms will start next season, regarding trading and other areas of the club. We feel comfortable with the situation as we see it."
'Expanding competition'
Uefa has also said it is not anti-debt, as long as debt repayments are being regularly serviced by profit.
It has also said it is not against cash injections from rich benefactors, if it is targeted towards areas such as youth investment and stadium infrastructure.
With these new demands it may mean the end of massive transfers, as they may be incompatible with breaking even for most clubs.
Yet, despite this new financial era, clubs will be given the leeway of showing a gradually-decreasing loss over number of years as they come to terms with the new financial landscape.
And Mr Geey said it appeared that Uefa seemed intent on setting out with a "softly-softly" approach during the first few years of the rules.
"The rules are not set in stone," admits Mr Traverso. "They might be changed from time to time to reflect market conditions."
With clubs that make the most revenues appearing to have the most spending power under the new rules, it seems that a Manchester United will continue to have greater financial muscle than a Wigan.
"With clubs having to break even, it restricts the amount they can pay on wages, and will make more players available and affordable to a wider range of clubs," says Mr Traverso.
"We see this as expanding competition."