Can foreign firms make Russia's electricity cheaper?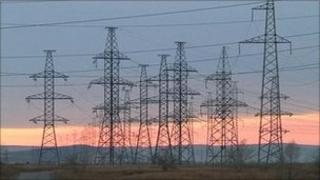 The last thing a government wants in an election year is to upset voters with rising utility prices.
This, however, is the reality for the Russian government, which seems to be caught between a rock and a hard place.
On the one hand, top officials have raised serious concerns about rising electricity tariffs and hinted that they could take steps to cap them.
Russian President Dmitry Medvedev said earlier this month that if the current trend of rising electricity prices was not changed, electricity in Russia would become more expensive than in Europe or the US by 2014.
On the other hand, when Russia launched its huge energy sector reforms in the 2000s and attracted the likes of Germany's E.On and Italy's Enel into the country's power generation, it pledged to liberalise electricity prices.
While handing power generation over to private firms, the state kept Russia's electricity grid and regional distribution companies under its control.
Mr Medvedev suggested that in order to boost efficiency, managerial control of the companies could now be given to private firms, while privatisation could also become an option some time in the future.
As a sign of the government's readiness to act, a deal between France's EDF and Russian state-controlled grid holding company MRSK was announced.
Subject to the Russian government's approval, EDF will operate the Tomsk Distribution Company, one of many regional ones.
Lower costs
"If Western companies become operators of Russia's electricity grid, it could have a positive effect on the profitability of Russia's grid companies," says Konstantin Reyli, senior analyst at investment financial company Metropol.
"Also, it would mean implementing Western corporate governance standards and could lead to increased transparency," he adds.
Sergey Pikin, head of the Energy Development Fund, a Russian think-tank, points out that selling heat and power generation assets to foreign companies has been a success.
"Transparency has increased and costs are down," he says.
In terms of inefficiency, electricity grid and distribution firms do not differ from many other Russian state-run companies.
Mr Pikin estimates that proper corporate governance could reduce costs by up to 20%.
But Mr Reyli warns that the level of efficiency in the sector has been low, not least because of the way tariffs are set, and the involvement of Western firms will not be enough on its own to achieve quick results.
For example, as many experts point out, the larger part of the electricity price paid by Russian consumers goes to grid companies, while in the West the bigger slice goes to power generating firms.
"Russia's energy ministry wants the sector to use the current tariffs system for four to five years," explains Mr Reyli.
"Then, when a new five-year system is introduced, Western companies could be invited, so that they could work mostly towards boosting efficiency, rather than dealing with how tariffs are set."
'Qualified investors'
But it is not all about who runs the country's electricity grid.
According to official estimates, some 2.8 trillion roubles ($100bn, £60bn) will be needed over 10 years to modernise it, as the average level of depreciation of the electricity grid is about 70%.
"To prevent breakdowns, a lot of investment is needed," says Mr Reyli.
It will take a significant amount of time to solve the problem and will require electricity tariffs to rise further in the future, he adds.
Speaking of the possibility of privatisation, Mr Pikin says that Russia will have to choose very carefully whom it wants to invest into its electricity grid, and not just on the basis of how much they are ready to pay for the assets.
"We need qualified investors capable of operating Russia's electricity grid," says Mr Pikin.
Optimal mix
With Russians set to vote in the parliamentary and presidential elections in December 2011 and March 2012 respectively, the government faces a dilemma: whether to choose a short-term solution and cap electricity tariffs, or opt for a long-term one in an attempt to develop the country's power sector.
"I believe that the government will be taking steps to control tariffs in 2011-2012 to try and balance the interests of consumers and companies," says Mr Reyli.
Mr Pikin agrees that an optimal mix should be found.
"The government wants to cap the growth of electricity tariffs at 15% [for households this year], but it has not yet decided what steps it should take to achieve that," he says.
The timing of the deal between EDF and Russia's MRSK shows that the Kremlin is ready to test whether foreign managerial control of distribution companies could allow it to kill two birds with one stone.
The aim is to make investors happy by boosting profitability in the power distribution sector, while lower costs should guarantee that consumers are paying a fair price.
As Mr Pikin put it: "The elections will be over, but the electricity energy sector and its problems are not going anywhere."