James Murdoch gets expanded role at News Corp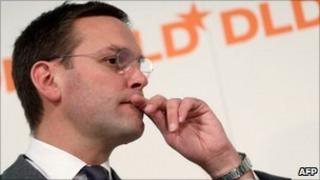 Media giant News Corp has appointed James Murdoch to the newly-created post of deputy chief operating officer.
Mr Murdoch is currently chief executive of the group's international operations run out of London.
He will move to New York and continue reporting to News Corp deputy chairman and chief operating officer Chase Carey.
The move will heighten speculation that Mr Murdoch will eventually succeed his father, News Corp chief Rupert Murdoch.
News Corp said James, 38, would also head the company's international operations as chairman and chief executive of News Corp International.
The promotion effectively makes him number three in a media empire that takes in publishing, TV, and film operations across the world.
In a statement, Mr Carey said: "James has demonstrated in an array of roles that he is a shrewd and decisive operator who can deftly navigate complex issues to transform businesses.
"He has equally shown a unique understanding of the emerging technologies and the digital forces that are reshaping our industry.
"As we become increasingly global and consumer focused, we believe there are real opportunities to add new dimensions to our core businesses."
Last month, News Corp announced that it had agreed to buy Shine Group, a television production company owned by Rupert Murdoch's daughter Elisabeth, for £415m ($672m).
Ms Murdoch is expected to join the News Corp board.