ICBC bank's profits surge 28% as China economy grows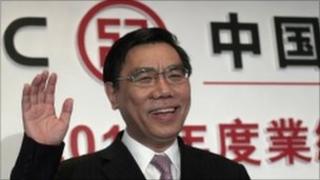 Industrial and Commercial Bank of China (ICBC), the world's biggest bank by market value, has reported better-than-expected results for 2010.
The bank said its profits increased by 28% to 65bn yuan ($25bn; £15bn).
China's economic success has seen a surge in bank lending, resulting in hefty profits for the country's top lenders.
On Wednesday, Agricultural Bank of China reported a 46% jump in its profits for 2010.
The Chinese government has been attempting to slow growth in order to prevent an overheating of the economy and also rein in surging property prices.
It has introduced property tax in some cities and also raised the amount of liquid cash that the banks need to hold with them.
Analysts say profits at the country's biggest lenders will be hit as these measures start to take effect.
"I am expecting the growth in banks' financial results to slow from last year's pace," said Qiu Gaoqing of Bank of Communications.
"There are limits on lending to local governments' financing vehicles and to the real estate sector, plus higher requirements to cover a possible rise in bad loans, which will lead to rising lending costs," he added.