Warren Buffett heir David Sokol in surprise resignation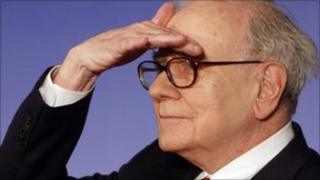 David Sokol, heir-apparent to Warren Buffett, has resigned unexpectedly.
His departure from the billionaire investor's Berkshire Hathaway firm comes just days after it emerged that he had bought shares in a firm before convincing his boss to buy it out.
The transaction - which Mr Buffett has publicly supported - earned Mr Sokol an estimated $3m profit.
Mr Sokol said he quit to set up his own business and focus on philanthropy. Mr Buffett expressed his "total surprise".
"Dave's contributions have been extraordinary," said Mr Buffett of his protege, insisting that he had not asked for the resignation.
Mr Sokol bought the shares in chemicals firm Lubrizol in January, then convinced the Omaha billionaire to buy the company, which he did in March, paying a 28% premium over the market price.
According to Mr Buffett, his junior had mentioned his share ownership in a "passing remark".
He also said Mr Sokol had asked to quit on two previous occasions in recent years, but had been talked out of it by Berkshire Hathaway's board.
Mr Sokol was widely tipped to take over from the 80-year-old investor, and had been praised by his boss for his "enormous talent" and "first-class" management skills in recent company trading reports.