South Korea inflation soars to a 29-month high in March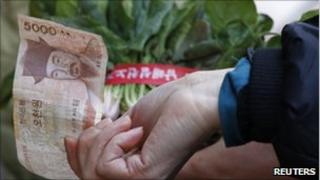 South Korea's inflation rate hit a 29-month high in March as higher fuel and food costs continued to push consumer prices upwards.
The Consumer Price Index rose by 4.7% in March from a year ago, according to the statistical office.
This is the second consecutive month that inflation has been above the central bank's maximum target of 4%.
However, analysts say that this is unlikely to prompt the central bank to raise interest rates immediately.
"I think inflation is at its peak now and price pressure will start easing, partly helped by a strengthening won currency," said Kim Jin-Seong of Hanwha Securities.
"The better-than-expected data will lead the Bank of Korea to hold interest rates steady in April," he added.
Export growth
However, the central bank's decision may be influenced by the unexpected surge in export numbers.
Shipments from South Korea grew by 30% in March compared to the same month a year ago, according to the latest government data.
Exports for the month stood at $48.6bn (£30.3bn) compared with $45.5bn worth of imports.
"Exports spiked up far more than the market consensus this month," said Park Hee-Chan of Mirae Asset Securities.
"They will reinforce expectations for continued interest rate rises, despite negative external factors," he added.
However, Mr Park said that a rate rise was unlikely to happen immediately.
"The Bank of Korea will likely take a pause in April before raising interest rates again in May."