Vince Powers ahead in the live music business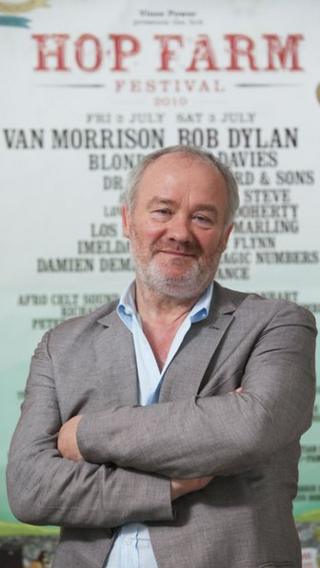 For the man who could be regarded as the elder statesman of the live music scene, Vince Power is not about to retire anytime soon.
In fact the Irishman is about to embark on his latest venture - floating his company Music Festivals (MF) on the Alternative Investment Market (AIM).
"Live events are in my blood so when I sold [music promotion firm] Mean Fiddler people thought I'd do something else. But I'm driven by ideas and love organising stuff .... it's still a challenge," he says.
"But that's not the only reason. I'm a competitive person. When you come out of a big organisation like Mean Fiddler you're stripped down - apart from your knowledge."
So earlier this year Mr Power was on the road, but not in the style you'd think. He'd been on an investor roadshow - gladhanding prospective shareholders.
He's been off the stock market since he sold in 2005. But now he's hoping to raise £6.5m to drive forward his new Music Festivals business.
The current venture relies mainly on Spain's Benicassim festival on the Costa del Azahar and the Hop Farm Festival in Kent, events which attract 150,000 and 51,000 people respectively.
Stellar line-up
And Hop Farm has caused a bit of a stir recently, extending by a day and adding Prince to a line-up which includes The Eagles, Bryan Ferry and Brandon Flowers of The Killers.
But he does have another three planned events up his sleeve to add to his portfolio.
First off is the Feis Festival at London's Finsbury Park - basically the return of the Fleadh, an Irish music festival he used to run under the Mean Fiddler banner - a celebration of Gaelic culture which will be headlined by Bob Dylan and Van Morrison.
As well as that there is a prospective classical music festival and another pop festival.
At a meeting in the far from rock-and-roll Merchant Securities offices, Vince and his team say prospective investors have been a lot easier to convince this time round.
"It's been very positive. Going back six years was difficult for the city to understand music festivals," he says.
"This time the focus is clearer, it's a simple story not a start-up."
According to his City advisers, private and high net worth individuals are all keen on getting a slice of action.
But it's not just your usual investors, Mr Power is hoping the float gives the average music lover the chance to buy a slice of the music industry.
Under his five-year plan, the money he makes from the flotation will be ploughed into buying his current festivals outright, setting up three more festivals and expanding the operation by lengthening the duration of the festivals and even "twinning" events.
Mr Power is a past master at twinning - he was the man who helped breathe new life into Reading by twinning it with Leeds. The dual festivals now attract more than 157,000 music fans a year.
Comeback
In fact his initial public offering (IPO) adviser says that the music business is now so "visible" that it's been quite an easy idea for prospective investors to get behind.
And festivals are big business, bringing in £864m to the UK economy last year, according to figures from UK Music.
While many 60-somethings would be considering retirement, this Irishman with a fierce reputation won't be taking it easy just yet - perhaps just scaling back.
He hasn't even given up his former live venues roots; he's still kept his hand in the business with the little pub he owns in Kilburn, north west London.
Back in the heyday of the Mean Fiddler, the Power empire spread across a string of music venues and rock festivals, as far as Caesar's Palace.
No - not that one - the Luton cabaret venue, which he says taught him some vital lessons.
"One time we had Freddie Starr on, and the chef decided to go mad, smashing up the kitchen, so there was no food to serve.
"We had to send out cabs for 800 portions of fish and chips. We wiped out every fish and chip shop in Luton."
And with Mr Starr aware of the wrath of a hungry crowd he refused to go on stage until the punters were fed. The audience, more used to tucking into their chicken in a basket at 7.30pm, was eventually served at 11.30pm.
"I sold up shortly after and the venue was turned into a bingo hall. It's funny now but it wasn't funny then."
Sell-off
The debacle was by no means the reason he flogged Mean Fiddler in 2005 for £38m - pocketing £13m for his share.
According to reports, he was fed up with answering to the City and investors.
But the sale came at a price, a "non-compete" clause which kept him out of the festival business for a time. Unable to slope off into the background he later set up promotional firm Vince Power Music Group, a business that cost him £7.9m when it collapsed.
Last year he was dealt another blow, this time to his business - the Icelandic volcano ash cloud led to a big fall in attendance at the Benicassim festival as UK revellers feared any travel chaos fallout would mean they wouldn't get to the event.
But it looks as though lady luck is shining on him once more.
This year ticket sales are up - 2% on 2009 for the Spanish festival and 228% on last year. Across the group, sales are expected to grow by 98%.
He plans for the firm to be around even after his five-year plan has taken root, stretching beyond Europe and across the globe - enabling the festivals to follow the sun. To that end, he's even been to Panama to scout out possibilities there.
"The business could keep going all year round," he says of his own field of dreams.
"We need local partners and access to acts and the people will come."