Financial services: Business 'almost back to normal'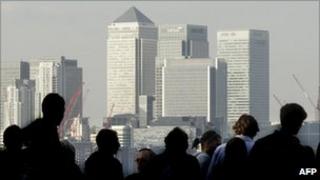 UK financial firms say business is almost back to normal for the first time since the financial crisis.
It follows three consecutive quarters of strong business growth, according to employers' organisation the CBI and accountants PwC.
On balance, 22% of financial services firms surveyed said activity increased in the three months to March, well above the expected 15%.
This is close to the 27-28% range seen before September 2007, the CBI said.
After that date, the quarterly survey registered a sustained decline as the financial services sector was hit first by the US sub-prime mortgage crisis, and then by the global financial crisis in September 2008.
New normal
A net 30% of firms expect business to improve further in the next three months, according to the survey.
However, the return to "normal" also seemingly reflects lowered expectations about what the new post-crisis normal will be.
"Despite a strong round of annual results [banks] are increasingly realistic about the challenges ahead," said Andrew Gray, PwC's head of UK banking.
"While they report near normal business levels for the first time since 2007, their actual activity is way below that seen before the financial crisis."
Among the financial firms, banks reported some of the weakest business growth levels, although their profitability was still rising thanks to stronger margins and a steep decline in non-performing loans.
"Income levels and business volumes are stubbornly flat," added Mr Gray, who noted that banks are facing up to the fact that weaker demand and tighter regulation are likely to prove long-term challenges to growth.
Instead, the best performers in the last three months were firms dealing with private customers, including life assurance and wealth management.
The survey also indicated that most firms still think conditions in the broader financial markets are far from normal, with the vast majority saying they did not expect this to change for at least the next six months.
Employment levels in the sector reportedly continued to decline, although firms said they planned to invest more in office space and IT over the coming year.