Diesels and hybrids push Porsche's expansion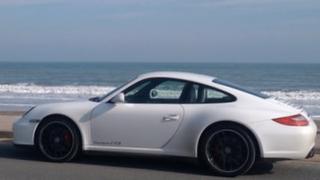 Stepping from Porsche's 911 sportscar into the carmaker's high-riding Cayenne 4x4 sports utility vehicle (SUV) feels like leaving one world and entering another.
The purist 911 embodies all the excitement of a road car with race-car performance. The Cayenne is more about spacious and practical luxury cruising, combined with passable handling on small roads.
But although the cars are markedly different, they both form integral parts of the German firm's universe.
And that universe is set to grow at an explosive rate.
For years one of the most unique companies in the motor industry - both in terms of the design of its cars and its corporate structure - Porsche is slowly but surely becoming a rather more normal, mass-producing car manufacturer.
In addition to the 911 and the Cayenne, Porsche also makes a four-seater grand tourer named Panamera, as well as two small sportscars - the Boxter and the Cayman - that are both cheaper than the 911 flagship.
And over the next five years or so, with the introduction of a small SUV dubbed the Cajun and other new cars, the company's five-model line-up is set to top at least 10.
Hedge fund or carmaker?
Porsche's accelerating model expansion plan is noteworthy in its own right.
But it is particularly dramatic now, given that it follows a period when the company was focusing perhaps at least as much on financial as on automotive engineering.
Indeed, a couple of years ago City-types were only half joking when they described Porsche as a hedge fund with a carmaker attached.
The ins and outs of Porsche's impressive, or perhaps notorious, moves in the world of finance are still being investigated by regulators in Germany, where the company is facing allegations of share price manipulation.
But it is becoming increasingly clear that such financial acrobatics will soon become history, once a power struggle that lasted for years reaches its final conclusion:
Porsche is set to become the 10th marque in the Volkswagen (VW) Group, perhaps by the end of this year or in early 2012, alongside brands such as Skoda and Seat, as well as Bentley and Lamborghini.
Dramatic sales and profit growth will then be demanded as Porsche will be expected to contribute to the VW Group's much publicised plan to become the world's largest carmaker by volume.
Analysts are convinced that Porsche's chief executive, Matthias Muller, will deliver dramatic growth, bringing annual sales well beyond last year's figure of 97,000 vehicles sold, with the overall sales volume set to double by 2018.
"The reverse takeover of Porsche will add between 90,000 and 150,000 units per annum to the company's global sales total from next year over the next decade," predicts IHS Automotive analyst Tim Urquhart.
Wake up and smell the petrol
Fortunately for the VW Group, Porsche is already delivering impressive results.
During the first three months of 2011, the company's profits before tax and interest payments more than doubled to almost 500m euros ($740m; £444m), cementing the company's reputation as the world's most profitable carmaker.
Porsche's ability to bring in the bacon is particularly impressive given its recent extensive investments in new technologies, including new engine technology.
"Two years ago, we were petrol only," Porsche Cars Great Britain's managing director, Andy Goss, tells BBC News.
"We're now petrol, diesel and hybrid."
Porsche envisages that its diesel and petrol-electric hybrid technologies will be rolled out across its model range in the years ahead.
Driving experiences
With the added sales volume and the growing model line-up, Porsche's sales and marketing operations are also becoming vastly more complex.
Different marketing efforts are required in countries where the Cayenne SUV is the sales leader - such as in China - to those in markets where the 911 sportscar remains king - such as the UK, Mr Goss reasons.
"In the UK, the heartland of the brand is the 911," he explains and explains how customer driving experiences at the Silverstone race track are central to its marketing.
"Our customers can't be sold to," he says. "We can influence them, but that's it.
"So we invite a customer to Silverstone and we ask them to bring a friend."
Sporty and profitable
Porsche expects the next generation 911, which will hit the road later this year, to sell to the tune of some 30,000 a year over the next few years on average - up from about 20,000 911 sales in 2010.
Over time however, it is inevitable that the 911 will become less important for the carmaker as new models are rolled out, particularly as SUVs and other non-sportscars are popular in fast-growing markets like China or Russia.
It explains why Porsche insists the sportscar is not its only brand builder.
Instead, it says it must strive to offer the sportiest car in each of the markets in which it competes.
This includes grand tourers and SUVs - after all, the Cayenne has become Porsche's biggest selling model worldwide.
This strategy is also pertinent as Porsche eyes high-end markets for cars with sticker prices well in excess of any of its models currently on the road.
The carmaker recently started taking orders for its petrol-electric plug-in hybrid 918 Spyder, priced at almost 770,000 euros in Europe, which makes it the most expensive Porsche yet.
The carmaker hopes a growing number of customers will be prepared to pay a premium for such performance cars, which will increasingly deliver relatively good fuel economy along with much-reduced carbon dioxide emissions.