Golf in Russia looking for major expansion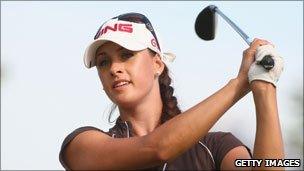 They ski abroad, become tennis superstars and will host the 2018 football World Cup, but there is one sport Russians are less known to play - golf.
With only a handful of golf clubs around this vast country and a few thousand players, this ancient sport is still very much in its infancy in Russia.
During the times of the tsars the very first Russian golf club, Cannes-Mandelieu, was built in 1891 by the Grand Duke Mikhail, the grandson of Tsar Nicholas I, but it was on the Cote d' Azur in Cannes, France.
But soon the turmoil of the 1917 revolution made everyone put their clubs away.
Golf remained dormant during communism - it was not part of the Olympic Games programme, hence the Soviet government never really bothered developing it.
The sport's last Olympic appearance was 1904, but it is returning for the Rio Games in 2016.
This could be a vital factor to get today's Russian authorities more interested in golf - to promote it and invest in it, despite Premier Vladimir Putin favouring judo and horseback riding.
For now, there is an almost complete lack of golf culture in Russia.
"The Soviet leaders started thinking about building a golf course only in the 1970s, and only so that foreign businessmen visiting Russia would feel more comfortable," says Alexei Nikolov, a board member of the Russian Golf Association.
But it did not happen for another decade.
The sport finally made a breakthrough in Russia in 1987-88, when Moscow City Golf Club - designed by a famous Swedish ice hockey player-turned-golf-architect Sven "Tumba" Johansson - opened its doors.
But during the period of perestroika, the development stalled again.
"The government had other problems then, and golf was very low down on the leaders' priority list," explains Mr Nikolov.
"New Russian businesses weren't interested either - because of a lack of tradition playing this game, and because it was impossible to make big money quickly out of it."
With post-Soviet Russia becoming more open and the situation stabilising closer to the year 2000, golf clubs slowly started appearing around the country's big cities.
But today, a decade later, out of more than 141 million people living in Russia, there are only about 17,000 who have tried golf, and only about 3,000 registered players.
There are only seven golf courses and another dozen that are being built.
Most of them are private, elite places, designed by the world's leading golf course architects.
To become a member of these clubs, one typically has to pay from $25,000 (£15,400) to $200,000, plus annual fees.
In Sweden, by comparison, it is possible to find clubs where membership fees are much lower, starting from $3,000.
But in Sweden, there are more than 400 golf courses that are scattered across an area that is just a fraction of its neighbour's vastness.
Igor Malyshkov, the president of the Moscow City Golf Club, says that this disparity could be explained, among other factors, by the extreme cost involved in building golf courses in Russia.
"For now, we're setting up extremely expensive, world-class golf courses," says Mr Malyshkov.
"It's extremely important for us learn from, for instance, Finland or Austria, where to build a hole the cost is seven, eight times cheaper than in Russia.
"Maybe it won't look as luxurious, but the game won't become worse because of it, and the quality of the course won't deteriorate."
In Russia, the costs range from $1.5m to $2m per hole; in Finland, there are fields where the price of building a hole is a mere $100,000.
The fee depends on the complexity of the irrigation system, and quality of grass and design demands, which are usually dictated by the club members.
And in Russia, says Mr Malyshkov, there is, for now, no market for less luxurious golf courses because most of the players are still those with big money - and their demands are very high.
However, although golf in Russia is still very much an elite sport for the rich, smaller clubs are beginning to appear.
In Moscow, for instance, there is one municipal golf course with prices affordable for the middle class at about 200 roubles (£4) to try it out.
There are also ways for children to start free training.
"At every golf club, there is a youth section, and not only for the members, but for kids from nearby schools - and the training is absolutely free," says Alexei Nikolov.
"Pretty much all of our great golfers come from these youth clubs," he adds.
Anastasia Kostina, a 25-year-old Russian amateur golf champion of 2005, is one of those former child golfers.
She started playing when she was 10.
"I didn't know anything about golf and had never really even heard of it," she says.
"When the club called Moscow Country Club opened not far from where I live, in Nakhabino, trainers went around local schools and invited kids to join the youth section for free.
"I went there together with my sister, tried it and loved it very much."
Anastasia and her older sister Maria learned much more than just how to hold the club properly and hit the ball with the right angle.
In 1997, Maria became Russia's youngest golf champion among amateurs at the age of 14, and later the first Russian professional golfer to take part in the US Women's Open championship.
Her sister Anastasia did not stay too far behind - in 2004 she won eighth place at the world championship, as part of Russia's National Golf Team, and went on to gain Russia's champion status among amateurs in 2005.
She, too, later became a professional golfer.
But talented as they are, Anastasia, Maria and other Russian players are still in the shadow of the highest-ranked world golf stars - for now.
Mr Nikolov says that to win, it is important to combine a number of factors, such as reinforcing the culture of golf on the national level, improving the level of traineeship and building all-season golf courses.
"And of course the fact that golf now is an Olympic discipline is vital for Russia - I'm sure it will be a real breakthrough as it will get the government interested in it," he adds.
This, he says, could launch Russian golfers to the heights tennis players enjoy, at the top of the professional ladder.
Being one of those northern nations where long snowy winters turn beautiful green stretches of land into white puffy slopes, Russian athletes can only enjoy several months of training a year, with the longest period being of 10 months in the Black Sea city of Sochi.
But winters are no setback for some enthusiasts, who wander as far as picturesque Lake Baikal, which from January until May lies completely frozen in eastern Siberia, and who strike away on its endless ice sheet.
The president of the Russian Golf Association, Akhmed Bilalov, says that this direction of golf tourism is also what needs to be developed in future.
"There's no real tourism in Russia, but if we develop it, it could be very profitable," he says.
"For example, in the Caucasus region it is warm almost all year round. So we're working on a project now of building a golf course at every ski slope there.
"But there are also beautiful, untouched places such as Lake Baikal and the Kyril Islands - and we have a unique chance to create a new golf geography, to attract players who have never been in those parts of the world.
"This way, we could develop infrastructure there, too."
Related Internet Links
The BBC is not responsible for the content of external sites.