China raises interest rates again to tackle inflation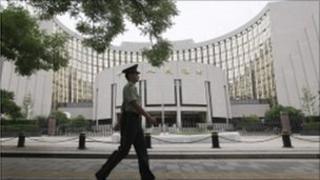 China's central bank has raised key interest rates by a quarter-point in a further effort to curb bank lending and rein in inflation.
The rise takes the one-year deposit and lending rates to 3.25% and 6.31% respectively.
The People's Bank of China said the fourth rate increase since late last year would take effect from Wednesday.
China has been battling inflation, with consumer prices rising 4.9% in February from the same month a year ago.
'Aggressive move'
"It is an aggressive move and the central bank is acting more aggressively then the market had expected," said Xu Biao from China Merchants Bank in Shenzhen.
"More importantly, it is not the end of China's monetary policy tightening".
Last month, Premier Wen Jiabao told the country's legislature that reining in prices was the government's "top priority" in 2011.
Food prices alone surged by 11% in February from an year ago, sparking pockets of discontent.
Despite efforts to control inflation, the rate is still above the government's target of 4%.
Reining in lending
The BBC's Martin Patience in Beijing said that China's inflationary pressures are partly put down to the government's response to the global financial crisis of 2008.
It pumped hundred of billions of dollars into the economy, which meant that growth quickly rebounded.
But one of the side effects of all that liquidity in the markets was inflation.
The Chinese government has since been using different methods to try and rein in lending.
On 18 March, the central bank boosted bank reserves - the amount of cash banks have to put aside - by half a percentage point, to 20%.
This locks up cash that banks could otherwise lend out.