S Korea mulls oil tax cut to cushion crude price surge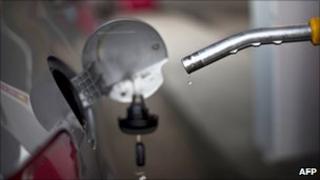 South Korea may cut oil taxes in the country if crude prices continue to rise further, the government has said.
Oil prices have been rising due to concerns over a shortfall in supply in wake of the unrest in Libya and the Middle East.
The South Korean economy has been hit hard by the surge in oil prices, with inflation hitting a 29-month high in March.
South Korea is the world's fifth-largest crude oil importer.
Petrol and diesel prices in Korea hit record highs of 1967.2 won a litre ($1.8; £1.1) and 1794.6 won a litre ($1.6) last week.
Government taxes accounted for 47% and 38% of those prices respectively.
Increasing competition
The government also said that it will consider allowing the state-run Korea National Oil Corporation (KNOC) to start selling its oil products to retailers.
KNOC is currently involved only in oil exploration and storage.
The government said allowing the company to enter the wholesale sector will help increase competition and hence reduce prices.
"We conducted an analysis as consumers feel that local oil prices rise more and fall less than international prices," the economy ministry said in a statement.
"Through triggering competition among refiners, we will lead them to cut prices," the ministry added.
The government also said that it may consider opening up online trading of oil products and also a futures market by the end of 2012.