New tax year and changes to your benefits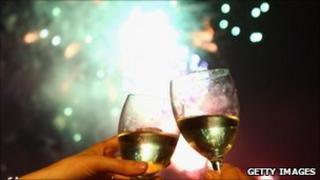 Few people will consider it a cause for celebration - but 6 April marks the start of the new tax year.
This coincides with a series of changes to taxes, some benefit entitlements, and rights for employees.
Some suggest that these changes will show the impact of the government's austerity measures.
Ministers argue that the changes are needed to tackle the deficit and to improve the entitlements system.
Tax changes
Changes to the thresholds in the income tax system will push thousands of people into new tax bands.
The Institute for Fiscal Studies (IFS) estimates that 500,000 people will no longer pay income tax because the point at which any income tax starts to be paid - known as the personal allowance - has risen by £1,000 to £7,475.
But the IFS also estimates that 750,000 people have become higher rate taxpayers, because the basic rate limit has fallen from £37,401 to £35,001.
A long-term plan from the previous government means the main rate at which National Insurance is charged is going up. This employee contribution rate for those who qualify is rising from 11% to 12%.
Those who must pay a contribution over the upper earnings limit, estimated as those earning more than £817 a week, will see that rise from 1% to 2%.
A new stamp duty rate of 5% will be charged on residential property purchases of more than £1m. This is expected to relate to 1% of housing transactions.
For those who have furnished holiday lettings, new tax rules mean losses cannot be offset against other income in the same tax year.
For businesses, the 2% reduction in corporation tax came into effect at the start of April, with future falls announced in Chancellor George Osborne's Budget.
Benefits
The annual increase in the state pension, as well as benefit entitlements, will actually kick in on Monday, 11 April.
The uprating of entitlements is aimed at accounting for the effects of inflation, so there are a host of new benefits where payments will rise.
However, the measure used to judge how much these entitlements increase by is changing, and is not uniform across all pensions and benefits.
So, the basic state pension will increase by £4.50 to £102.15. This is because it is linked to the Retail Prices Index measure of inflation the previous September, which was 4.6%.
From now on, it will rise each year in line with average earnings, the Consumer Prices Index measure of inflation, or 2.5%; whichever is highest.
The majority of working age benefits will increase by 3.1% on 11 April. That is because these benefits are already linked to the CPI rate of inflation from the previous September.
On 1 April, the first element of changes to housing benefit came into force. This affected new claimants, with existing claimants' entitlements changing later in the year or in subsequent years.
Other pensions
A new reduced annual allowance for tax-free pension saving is now in place.
Pension contributions that qualify for tax relief will be reduced to an annual allowance of £50,000 instead of the previous limit of £255,000.
New rules from 6 April also mean a change to converting pension pots into income.
These include the end of the effective compulsion to buy an annuity by the age of 75.
Existing pension drawdown arrangements have also changed, which gives investors more flexibility and control over their pension options when they retire.
Tax credits and families
Some of the most controversial changes that have come into force from 6 April are changes to the thresholds in the tax credits system.
These are complex but will ultimately see payments reduce faster as income rises.
Tax relief for employer-supported childcare is no longer available to new claimants who are high-earners.
Universal child benefit is now frozen for three years, at £20.30 for a first or only child and £13.40 for each other child.
Savings
The limit for saving in a tax-free Individual Savings Account (Isa) has risen to £10,680, of which half can be saved in cash.
The total amount, which has risen from £10,200, can be invested in a stocks and shares Isa.
In the future, the limit will rise each April in line with the RPI measure of inflation.
Rights for parents
New paternity leave rules, meaning that parents will be legally entitled to share time off work during their baby's first year, came into effect on 3 April.
The new rules mean parents could take six months off work each.
Additional paternity leave (APL) will allow an employee to take up to 26 weeks' leave to care for the child, on top of two weeks of ordinary paternity leave.
This can only be taken 20 or more weeks after the child's birth or placement for adoption, and once the mother has returned to work from statutory maternity or adoption leave or ended her entitlement.