Portugal pays higher rate to raise 1bn euros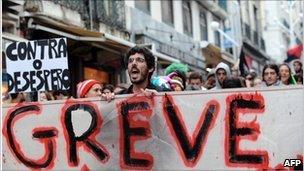 Portugal has successfully raised about 1bn euros ($1.4bn; £873m) but is paying a much higher interest rate to lenders.
The government had to tap the financial markets to raise money to repay loans.
But Lisbon is paying yields of 5.1% and 5.9% to borrow money for six and 12 months, against the 3% and 4% it was paying to borrow last month.
Caretaker Prime Minister Jose Socrates is due to make a statement later after his finance minister said the country needs to resort to aid from the EU.
"In this difficult situation, which could have been avoided, I understand that it is necessary to resort to the financing mechanisms available within the European framework," Fernando Teixeira dos Santos said.
His comments were reported in the online edition of business daily Jornal de Negocios and were confirmed by a finance ministry spokeswoman.
Analysts said paying such high rates was unsustainable for an economy that is seeing virtually no growth.
The BBC's business editor, Robert Peston, said the rate is more than the Republic of Ireland was paying before it received bail-out funds and "implies Portugal will have to go for a rescue after its general election" in June.
The markets will also be watching closely to see which institutions subscribed to the bond auction.
There has been speculation that some of Portugal's own banks were refusing to take part unless Lisbon applied for a bridging loan from the eurozone's emergency bail-out fund.
The government has so far insisted it does not need a bail-out.
The jump in yields was sparked by ratings agency Moody's downgrading Portuguese government debt by one notch, to Baa1 from A3.
The rating is still investment grade - but only just.
It is the second downgrade by Moody's in less than a month and follows fellow agency Standard & Poor's cut last week.
Lena Komileva, global head of G10 strategy at Brown Brothers Harriman, told the BBC before the auction details were released that the financial situation in Portugal "has become critical".
She said: "The government is not just facing a confidence crisis, it is facing a classic, text-book liquidity crisis in the markets.
"The Portuguese banks' attempts to force Lisbon towards seeking some sort of bridge loan [from the bail-out fund] increases the risk of a failed auction [on Wednesday]," she said.
Portugal has to repay more than 4.2bn euros in loans on 15 April, and then another 4.9bn euros in June.
Moody's said Tuesday's downgrade was "driven primarily by increased political, budgetary and economic uncertainty".
Last week, the Portuguese government admitted it had missed its budget deficit target for 2010.
Moody's said the increased uncertainty in the country heightened the risks that "the government will be unable to achieve [its] ambitious deficit reduction targets" in the next three years.
Related Internet Links
The BBC is not responsible for the content of external sites.