Honda halves Swindon production due to parts shortage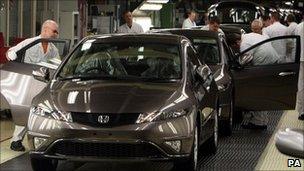 Honda is to halve production at its factory in Swindon from Monday because of a shortage of parts coming from Japan.
Honda said that the 3,000 workers would remain on full pay.
It was confident that the 22,500 fewer cars that would be built as a result could be made up by the year end.
Many carmakers have struggled because of shutdowns to plants affected by the earthquake and tsunami in north east Japan.
Honda has just resumed manufacturing at its Japanese plants, but has now said that production of component parts and vehicles would only be at 50% of the planned level.
It announced last month that it would resume production and shipment of component parts in Japan on 4 April and resume car production at its plants at Suzuka and Sayama on 11 April.
The company said that the vast majority of the parts used in Swindon are made in Europe.
It added that its flexible working policy would allow it to make up for the lost production later in the year using "banked hours".
"Thanks to a working-time agreement Unite negotiated in 2009, there will be no loss of earnings for the workforce while the company cuts production," said Jim D'Avila, regional officer for the Unite union.
The Swindon plant has the capacity to make 250,000 vehicles a year.
Other carmakers, such as Toyota and Nissan, are understood to be facing similar parts shortages to Honda.
Meanwhile, Chrysler has become the latest carmaker in the US affected by disruption in the aftermath of Japan's earthquake.
America's number three car manufacturer is cancelling overtime work at some of its North American assembly plants due to parts shortages.
Last week, Ford said it would idle its Kentucky truck plant, while General Motors has also stopped production at a plant due to parts shortages.
Related Internet Links
The BBC is not responsible for the content of external sites.