Bmibaby carrying out 'additional' checks on Boeing 737s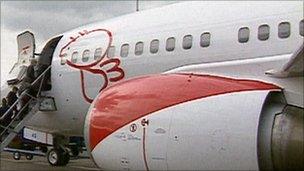 Three Boeing 737s operated by low-cost airline Bmibaby are to have "additional inspections", BBC News has been told.
The announcement comes after part of the fuselage of a US Southwest Airlines plane tore open last week, causing the cabin to depressurise.
US authorities issued an airworthiness directive on Tuesday, while Boeing has distributed a service bulletin.
The directive affects Boeing 737-300s, 400s and 500s that have completed more than 30,000 take-offs and landings.
The Boeing service bulletin outlines the checks needed.
Bmibaby told the BBC it expects the fuselage inspections to be completed by Thursday.
The FAA directive comes after a Boeing 737-300 belonging to US carrier Southwest Airlines developed a 1.5m hole in the top of the fuselage - causing the cabin to depressurise and passengers having to use emergency oxygen masks.
The airliner, which was en route from Phoenix, Arizona to Sacramento, California, with 118 passengers onboard, had to make a controlled descent before making an emergency landing at a military base.
No-one was injured, but Southwest had to temporarily ground 79 jets while they were inspected for metal fatigue. Five aircraft were found to need repairs.
The urgent inspections are expected to affect around 170 "classic" 737s worldwide, and requires airlines to carry out electromagnetic inspections of the aircraft's fuselage for fatigue damage.
Further inspections will have to conducted at regular intervals.
In a statement, a spokesperson for Bmibaby said: "We have an extremely strong culture of safety within bmibaby and all of our aircraft undergo regular maintenance checks and constant monitoring by our engineering team.
"Following the release of Boeing's service bulletin on Tuesday 5 April 2011, three bmibaby Boeing 737s will be required to undergo the additional inspections.
"Bmibaby is currently performing these inspections and these will be completed by 7th April 2011; this is well within the timeframe given by Boeing. Safety is our number one priority and we will continue to work closely with Boeing."
Three other UK passenger carriers operate the 737 Classic range - Thomson, British Airways and Jet2.
They have told the BBC that none of their aircraft is affected.
Related Internet Links
The BBC is not responsible for the content of external sites.