Tesco and Asda made 'misleading price claims'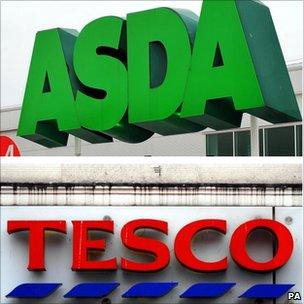 Tesco and Asda have both been making misleading price claims to customers, a BBC Watchdog investigation has found.
Researchers found 27 instances in which an Asda "rollback" price had gone up instead of down.
They also found Tesco claiming that larger packages represented better value, when smaller quantities worked out cheaper.
Both Tesco and Asda have apologised and acted to correct the mistakes.
Between December and March, Watchdog discovered 27 instances where a "rollback" on Asda's website was actually a price increase, although the original lower price was usually visible as well.
On 19 January alone there were 23 online examples, including multi-packs of Diet Coke at £3.75 ("rolled back" from £3) and Kellogg's Special K Oats & Honey at £2.99 ("rolled back" from £2.07).
On March 17, programme researchers bought a multi-pack of Robinson's Fruit Shoots at £2.89 ("rolled back" from £2.76).
Asda admitted "a glitch in our online system which thankfully we have now put right. The bug meant that the rollback flag stayed online for up to 24 hours after the price of certain products had moved back up - which clearly shouldn't happen".
A Tesco shopper from Devon pointed out that their "Bigger Value Pack" of 10 Alpen bars worked out at 29 pence more than two smaller packs of five.
Watchdog also found Tesco selling its own-brand "Bigger Pack Better Value Ready to Serve Custard" at 99p per kilo. However, smaller packs of the same product worked out at 87p per kilo.
"Our policy is absolutely to make sure that big packs offer better value and it is never our intention to feature promotions that do not offer real savings," a Tesco spokesman said.
"With over 40,000 products and thousands of promotions, we do however occasionally make mistakes. When this happens, as it has here, we put it right and we are sorry."
Asda's price war with Tesco has grown increasingly acrimonious since January, when it launched its "Price Guarantee" scheme, promising customers that their average weekly shop would be 10% cheaper than their leading competitors.
Tesco responded with a pledge to "double the difference" to customers who found any of their items on sale for a cheaper price at Asda.
But two weeks ago the company put a £20 limit on the amount customers could claim back, after some shoppers were found taking advantage of the system to make themselves hundreds of pounds.
Watchdog returned to BBC One on Thursday 7 April at 2000BST. Watch online at BBC iPlayer or catch up on the latest consumer investigations at BBC Watchdog.
Related Internet Links
The BBC is not responsible for the content of external sites.