Toyota and Microsoft announce technology partnership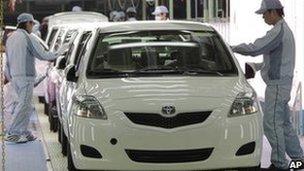 Microsoft and Toyota have announced plans to work together to bring internet services to Toyota vehicles.
The world's biggest carmaker and the world's biggest software company are investing $12m (£7.3m) in Toyota Media Services, a Toyota unit which handles digital information services.
The aim is to provide features like GPS, power-management and multimedia services.
Toyota's 2012 hybrid vehicles will be the first to get the services.
The carmaker hopes to be able to offer them to customers worldwide by 2015.
The services will use Microsoft's "cloud computing" - the remote storage and handling of data - system called Azure.
"This new partnership between Microsoft and Toyota is an important step in developing greater future mobility and energy management for consumers around the world," Toyota president Akio Toyoda said.
Microsoft has been involved in the auto industry for several years but has so far focused on working with Ford.
It designed Ford's Sync entertainment system, which was rolled out in 2007 and allows drivers to make phone calls, listen to text messages and use GPS.
Related Internet Links
The BBC is not responsible for the content of external sites.