China increases fuel prices as crude costs hit refiners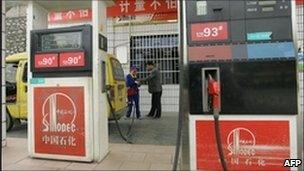 China has increased the retail price of gasoline and diesel to record highs, after a rise in global crude costs.
The increase will be 5-5.5%, according to the National Development and Reform Commission.
The move is aimed at easing pressure on state refiners who are struggling with international oil prices at two and a half year highs.
But analysts say inflation worries have kept the government from increasing prices too much.
"The hike is not enough and too late," said Brynjar Bustnes, head of the Asia-Pacific oil and gas equity research at JP Morgan.
"The only way to control oil product demand is through higher prices".
China has been battling inflation, with consumer prices rising 4.9% in February from the same month a year ago.
That is above the maximum target of 4% inflation this year.
The country has been taking measures to rein in that high inflation without hurting economic growth.
The increase in the price of fuel comes only a day after the Chinese central bank raised interest rates for the fourth times since October.