Samsung profits drop on weak demand and falling prices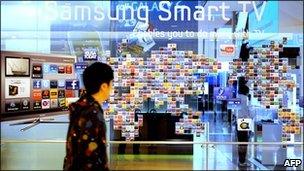 Samsung Electronics said profits for the first three months of this year fell, as television sales decline.
Between January and March operating profits were down 34%, according to the company's preliminary data.
Analysts say Samsung has been hit by weakening demand and falling prices for its televisions and flat screens.
The South Korean company is the first major manufacturer to announce earnings after a tsunami and earthquake hit Japan.
The disaster has caused major damage to Japanese factories and disrupted to the global supply chain.
However some analysts say South Korean companies, such as Samsung, could benefit as customers turn to them for key components.
Operating profits fell to 2.9tn won ($2.7bn; £1.7bn) from 4.4tn won a year earlier, Samsung said.
It released its earnings guidance on Thursday, which does not include a net profit estimate.
Its official results for the first quarter will come out later this month.
Samsung plans to release new models of 3D and internet-connected TV's, as well as tablet computers to try and boost sales.
However, not all of its new products have been a hit with customers.
The BBC's Nick Ravenscroft in Seoul says Samsung's Galaxy tablet computer is coming off worse in the battle with Apple's iPad.
Related Internet Links
The BBC is not responsible for the content of external sites.