Tax return fines to rise steeply, HMRC says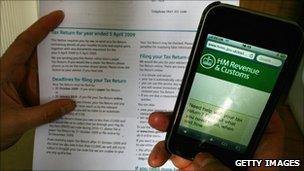 People who send in their tax returns late will now have to pay much higher penalties than before,
Previously, filing the returns after the annual 31 January deadline would lead to a £100 fine.
Now, extra fines will ratchet up at a rate of £10 per day, leading to penalties of hundreds of pounds.
HM Revenue & Customs (HMRC) said the new penalties were aimed at a "hard-core" of taxpayers who regularly failed to submit their paperwork on time.
Another big change to the penalty regime is that the fines will no longer be cancelled if the taxpayer owes no money to HMRC, because there was no extra tax to pay or because it had been paid.
"There are always a small number of people who have avoided filing or paying on time," said an HMRC spokesman.
"HMRC spends a lot of time pursing late returns and getting involved in unnecessary appeals work.
"The old £100 penalty was not much of a deterrent and these new penalties, which increase over time, will get people to submit returns as soon as possible," the spokesman added.
The updated rules are being targeted at a minority of the 9.2 million people in the self-assessment tax system.
They all have to send in paper returns by 31 October each year, or online by 31 January.
HMRC estimates that about 5% of these taxpayers have problems assembling the necessary information and filing in the forms on time.
But it estimates that another 5% do not care because, under the old regime, they knew that they would escape any fine because they had no tax to pay.
"There is no longer a 'get out of jail free' card," said the HMRC spokesman.
Under the new system, which will apply to tax returns starting with the 2010-11 tax year, there will still be an initial £100 fine for filing after 31 January.
For the next three months the fines will be £10 per day, up to a maximum of £900.
For delays between three months and six months the further fine will be a flat £300 or 5% of the tax due, whichever is higher.
And for returns filed between six months and 12 months late there will be another flat charge of of £300 or 5% of the tax due (again, whichever is higher) and in some "serious" cases the taxpayer may be fined 100% of the tax instead.
Someone who failed to submit their return for 12 months would end up being fined at least £1,600.
There is no change to the additional scale of interest and penalties for paying the tax late.
Chas Roy-Chowdhury of the ACCA accountancy body acknowledged there were some people who never filed on time.
"The new system is much tougher and the penalties just rack up," he said.
Taxpayers can still argue that they had a reasonable excuse for not meeting the filing deadline, which would potentially lead them to escape their fines.
Mr Roy-Chowdhury argued that the Revenue should be prepared to be lenient in some cases.
"Where people have good reasons, perhaps because the information has come in late from overseas, the HMRC needs to use some discretion in applying the new penalties," he said.
Related Internet Links
The BBC is not responsible for the content of external sites.