Sochi 2014 Winter Games goes into snow business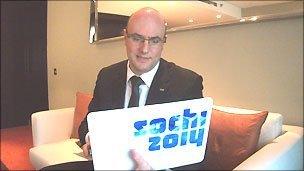 The organisers of the Sochi 2014 Winter Olympics are planning a "hot snow" programme to overcome any warm weather that may affect their event.
A lack of snow at the 2010 Vancouver winter games meant the competition was forced to fly and truck-in snow.
With Sochi, a Black Sea port city in southern Russia, enjoying a Mediterranean-type climate, the 2014 team want to avoid the same happening.
"We have a solid [weather] programme," said 2014 boss Dmitry Chernyshenko.
"The climate is a challenge, but the organisers have a strong programme to avoid any risk of cancellation of events because of the weather," he told the BBC.
He said that their "hot snow" programme would provide reliable snow cover in Sochi even at temperatures of up to +15 degrees.
Mr Chernyshenko said the organisers hoped to store enough snow from the previous winter season in case February 2014, when the games are being held, should prove to be unusually warm.
And as well as storing snow for a year, Sochi 2014 also hopes to make use of a number of scientific measures to boost the quality and volume of snow that they need.
One will be to use a chemical additive to improve the bonding quality of the snow.
"Another is to make powder from ice, to create additional snow when needed," said Mr Chernyshenko, a native of Sochi.
The graduate of the Moscow State Technological University said there would also be much work to predict the weather, and if necessary to manage the cloud cover by artificial means.
"Rain is the enemy," he said, but pointed out that there were numerous scientific institutes in Russia with decades of experience in tracking and observing weather patterns in mountainous areas.
"The Ministry of Defence in Moscow also has the technology to dissolve the [rain] clouds."
Related Internet Links
The BBC is not responsible for the content of external sites.