UK interest rates held at record low of 0.5%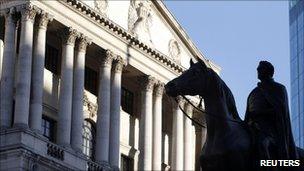 The Bank of England's Monetary Policy Committee has kept UK interest rates once more at a record low of 0.5%.
There has been no change to the Bank rate for 25 months, despite the fact that inflation is currently more than twice the Bank's 2% target rate.
No new quantitative easing measures were unveiled.
Last month, three MPC members again voted for a rise, and it was revealed that consumer prices inflation rose again in February, to 4.4%.
Inflation continues to be boosted by rising commodities prices - not least the oil price, which is being driven higher both by strong demand from Asia and by supply worries due to the Middle East uprisings.
The Bank faces a dilemma over what to do on interest rates, and has chosen once again to wait and see.
Raising rates slows down inflation - and it is the Bank's job to keep inflation in check.
But it also increases the cost of borrowing, and there are concerns this may tip the UK back into recession, especially after the shock 0.5% contraction in the economy seen in the last quarter of 2010.
"The Bank is right to look through the short-term rises in inflation and continue holding fire on rates for the time being," said Jeegar Kakkad, economist at manufacturers' organisation EEF.
"The current combination of unrest, upheaval and uncertainty we are seeing around the world poses significant risks to growth, whilst, at home, the full effects of fiscal tightening and the squeeze on consumers is still to be felt."
The British Chambers of Commerce (BCC) agreed.
"Businesses will welcome the MPC's decision," said BCC chief economist David Kern, who called for any rate rise to be delayed until next year.
"Premature rate increases will have negative effects on growth and jobs. With wage increases remaining subdued, we strongly urge the MPC to hold its nerve and avoid taking any action that may risk derailing the recovery."
However, other economists fear that unless the Bank takes action soon, the current high inflation rate may become locked in by higher inflation expectations and faster wage increases.
Related Internet Links
The BBC is not responsible for the content of external sites.