Does your firm need its own mobile app?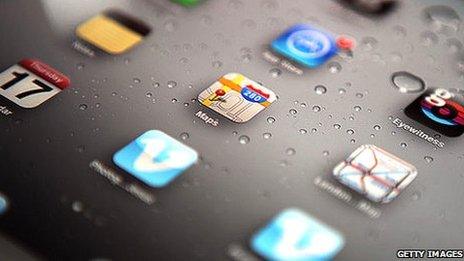 Those little green pigs don't know what is about to hit them.
Without any warning the birds rain in from above, destroying everything in their paths. But these aren't just any birds - they are Angry Birds.
The Angry Birds game (where affronted fowls fight pigs who have stolen their eggs) is one of the most successful mobile applications - or apps - in the world.
It has been downloaded over 100m times and is one piece of a global industry expected to be worth over $30bn by 2015.
Ebay claims 15m people worldwide have downloaded its iPhone app in 190 countries and in eight different languages.
Globally an item is bought through Ebay's app every two seconds.
An app is a piece of software that is downloaded onto a mobile device - be it a phone or tablet - which can then integrate with the gadget's features such as its camera or GPS system.
It can be updated to bring you any of the latest products, offers or features that the creator wants you to see.
Apps provide instant access, without having to type information into a search engine and can usually be accessed offline (although not updated).
Paul Berney is managing director, EMEA, at the Mobile Marketing Association, a global trade body which promotes the use of mobile devices to develop brands.
He believes apps can offer unrivalled insight into customers' behaviour.
"An app can tell you who you are dealing with, where they are and what they are doing, and then it can let you respond to consumers' need," he says. "No other channel can do that all at once."
"For example it's perfectly possible for me to walk outside now and start an app to look for a restaurant," he says. "It will identify me, where I am, what kind of food I like that's within 500m and any offers that are on."
Professional services firm PricewaterhouseCoopers has launched a number of apps to serve its global clientele.
"As a professional services organisation we are trying to engage with people and give them insight," says Jass Sarai, PwC UK Technology Leader.
"For example, recently when the UK's budget was announced we delivered thought and views in real time on what it meant for global markets."
"Ultimately we think clients will want to do more business with us because they value the insight we are giving on a real time basis," he says.
Such has been the success of PwC's apps, it recently launched one costing 23 euros ($33, £20), which offers analysis of the global entertainment and media industries, and marks the firm's first foray into paid apps.
ABI Research claims almost 8bn apps were downloaded in 2010 - clearly a sign of their popularity.
But it is also betrays a marketplace where your app could disappear quicker than a green pig under attack from an angry bird.
They are expensive to create - a simple app could cost you £20,000 ($32,639; 22,835 euros) and take two months to create.
A complex app could have a price tag of more than £100,000 ($163,200; 114,180 euros) and take six months to develop (and you've got to hope nothing happens to render it obsolete in that time).
This price multiplies if you decide you want to make it available on more than one operating system.
For example, an app that will work on an iPhone won't work on a phone with the Android system, and vice-versa.
It has then got to pass stringent tests laid down by some companies, including Apple, before they will sell it - or even give it away for free - in their app stores.
Once your beleaguered app is on the shelf it is competing with about half a million others.
The process starts again every time either the operating system is updated or you want to update the software yourself.
"The first thing we say to clients who say they want an app is 'are you sure?'" says Colin McCaffrey, from mobile technology firm 2ergo, which has designed apps for companies such as insurance giant Aviva and the Australian Broadcasting Corporation.
"If you're a brand, looking for a more involved brand experience, then often an app is the preferred choice, as this will allow you to engage customers in a more rich and interactive way," he says.
He says one example is retailers whose customers use their app as a loyalty card by having their phone scanned when they make a purchase.
"But, for example, if you're a retailer looking to open up a new sales channel via mobile then it's important for you to reach as wide an audience as possible."
"[In that case] rather than develop several apps at significant cost we would often advise brands to choose a mobile optimised web site," he says.
As apps have only really been around for the last three years, you've got to learn quickly when problems arise.
Telecom price comparison website, Top10.com, discovered this when it launched an app allowing users to test the 3G connection speed on their phone.
"As soon as you release an app into the wild it's difficult to control the functionality of it," says Top10.com co-founder Harry Jones.
"The app crashed and some people said the readings were wrong. We also had huge amount of feedback from users, which can be pretty daunting," he says.
"Businesses don't necessarily think of it like launching a new store or office but apps will bring a lot more customers and a lot more information - it's not just a bolt on."
Top10.com recently released version 1.5 of the app, which Mr Jones says has fixed almost everything, and he remains sure creating an app was the right thing to do.
"It has allowed us to engage with new customers and introduce people to our brand and we have reaffirmed our position as an innovative company," he says. "It's a beacon of where we have to go."
The one thing you can be sure of is technology develops very quickly, which begs the question: will apps remain a feature of business for any meaningful time?
"We are seeing huge advancements in mobile websites and many app features you pay so dearly for, like animation, are becoming available on the mobile web", says Mr McCaffrey.
"It's difficult to say apps are a flash in the pan when Apple has had billions of downloads in three years."
"Apple is pushing apps hard but at the same time Google is very much pushing the mobile web - and I wouldn't bet against either Apple or Google," he says.
What seems clear is attracting and engaging customers through mobile devices in some form is going to become increasingly important.
"Every enterprise will need [a mobile offering] as a central part of their infrastructure - deployment of mobiles and tablets are outstripping desktops," says Jim Hemmer, CEO of international mobile technology designer Antenna.
"It's connected 24/7, it offers immediacy and access to data in a form and substance that you need it."
"People have a great affinity to their phone or tablet - if you can get your brand in there it can drive great results, far more effective than other forms of branding," he says.
"It's there when they go to sleep and it's there when they wake up."
So now it's just up to you to decide how you go to bed with your customers.
Related Internet Links
The BBC is not responsible for the content of external sites.