Savings questions answered by an expert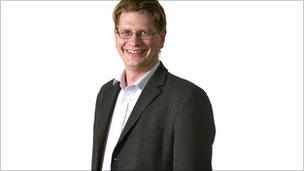 The interest rates most people can obtain on their savings accounts are lagging well behind inflation.
The average savings account offers only 0.84% interest a year, according to Bank of England statistics.
Meanwhile the average Isa (individual savings account) offers just 0.43%.
What can you do if you want to put some money away but protect it from inflation?
Adrian Lowcock of BestInvest answers a selection of your questions.
The tax efficiency of the income earned in fixed-interest (ie bonds) is better than with shares and has been a tax efficient use of Isa's in the past.
However the impact of inflation on bonds can be very harmful so I would include equities in your Isa as they are good for growth and can offer a rising income.
The key is to use your Isa allowance and try and wrap up as much as possible in it to protect it from the taxman.
You can put up to £50,000 a year into a pension, depending on your earnings. However you will only be able to access this money at the age of 55 at the earliest.
The benefit of putting it in a pension is tax relief on the contributions going in.
You will receive up to 50% tax relief if you are paying income tax at the current highest rate.
Investing in an Isa is also sensible to protect future income and growth from tax; you can put up to £10,680 into a stocks and shares Isa. And you can still access the money should you need to.
The safest way to invest is to diversify so I would recommend unit trusts (you get an experienced manager).
I would then recommend a range of these, investing into different assets and countries.
If you are looking to invest £100,000, you can get advice without it costing any more than going it alone.
I have to say that successful investing is not about the thrill of risk taking, but about reducing the risks whilst maximising returns.
I would suggest educating the prisoners on how to invest for their future.
I would recommend unit trusts as an investment vehicle. Isas are the best place to start building up their investments.
I would not advocate unnecessary risk taking for anyone.
Not really, as cash Isas offer tax-free interest.
The need for liquidity means you will miss out on some of the more attractive rates on offer.
The best thing to do is keep your eye out for good rates of interest being offered by banks etc, as these do change and can improve.
Investments do not sound appropriate as they are for the medium to long term.
Government bonds do not yield very much and for the yields to rise, (which they are likely to do should interest rates rise) the price must fall.
Also, because they give a fixed return, inflation erodes the real return you receive. If you like bonds then consider index-linked ones and look toward corporate bonds over government bonds.
These have slightly more risk but better yields.
The Isa allowance has now increased so you can top up your monthly cash Isa contributions to £445 as of this month.
You could take out a stocks and shares Isa and invest in lower risk assets.
However investments are more suitable for the medium to long term, so if you would like to use the money in less than three years I would suggest holding it in cash and looking for the best rates around.
The returns will be low but your money will be safe and you can stay focused on owning your own home.
There is a risk of falling foul of recycling rules so I would not recommend putting the money into a SIPP.
The best use would be Isa investments where you will be able to drawn down an income later, when needed, without incurring any additional tax on the interest earned.
Whilst it would take time to wrap all the money in an Isa you could take out an Isa on behalf of your partner or spouse, if you have one.
The Isa allowance is £10,680 so you can use that up.
If you have received a redundancy payment you could put this into a pension to get the tax relief, although the money invested must come from the redundancy payment and not your pension lump sum as there are rules against recycling pension money back into another pension.
Contribution into a pension will tie up some of the money but you will be able to take a tax-free lump sum and then draw an income from it later.
Pension contributions will be dependent on having an income in this tax year.
You can still invest outside of your Isas and each year move some of your non-Isa investments into an Isa. This will help reduce the amount of tax payable on income later.
You can transfer the Nationwide Champion Isa into another cash Isa or into a stocks and shares Isa.
However it is important to note you cannot transfer it back from a stocks and shares Isa once you do this.
Returns on cash are pretty low at the moment so I would recommend the investment Isa.
However this will be riskier and you could get back less than you invested.
If you prefer to stick to cash, then look at the three-year bonds, which offer the most attractive rates without tying your money up for too long.
The pensions you have are state pensions and they tend to be very generous with the incomes index-linked for life. Transfers to consolidate are unlikely to be in your interests - I would keep them separate.
I would suggest investing in a range of assets including equities, bonds, property and commodities. To me 70% in equities would be very adventurous.
I would suggest reducing the amount in equities to around 60% and investing with a combination of equity income and growth as this will reduce risk.
Sadly cash rates are just not great at the moment so for three or four year fixed you are still looking at interest rates of about 4.2%, which does not keep up with inflation. Keep your eye out for changes as these may well change.
The opinions expressed are those of the author and are not held by the BBC unless specifically stated. The material is for general information only and does not constitute investment, tax, legal or other form of advice. You should not rely on this information to make (or refrain from making) any decisions. Links to external sites are for information only and do not constitute endorsement. Always obtain independent, professional advice for your own particular situation.