First Choice to offer only all-inclusive holidays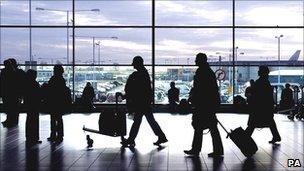 Travel firm First Choice will make all its holidays "all inclusive" from next year, claiming it will save money.
It says from next summer it will become the UK's first mainstream holiday company specialising in the field.
The package will include flights, in-resort transfers, hotel accommodation, three meals a day and unlimited local drinks as standard.
The move is the polar opposite from the past decade's trend of building your own holiday.
Low-cost airlines and the internet exposed travel companies' profit margins, although two types of package holidays fought back - the cruise and the all-inclusive holiday - such as that offered by the Sandals chain of resorts.
Typically, these were advertised as upmarket and somewhat exclusive and, squeezed between the two, mainstream travel companies lost their market share.
Figures from the Office for National Statistics showed the package holiday market peaked in 2002, when 20.6m were taken.
Last year, figures showed that the number had slipped to 17.9m.
'All-inclusive portfolio'
First Choice said its research had shown that demand for all-inclusive holidays had grown by 32% in five years. Already, 65% of its holidays are of this type.
Johan Lundgren, managing director of TUI UK & Ireland, the parent company of First Choice, said the move was a first for the mainstream holiday industry.
It is marketing all-inclusive deals as suitable for budget conscious UK holidaymakers, citing a "price test", in which it compared the cost of a family holiday at its all-inclusive resort in Benidorm, to one staying in a bed and breakfast.
This, it said, showed a typical family could save more than £500 a week by taking the all-in option.
Of that, £132 was car hire, which was not included in the all-in holiday.
It suggested that a family staying at a bed and breakfast would pay £157.06 a week on entertainment and £38.43 on snacks.
Simon Calder, the travel editor for the Independent newspaper, queried some of the figures used in the price comparison offered, including the cost of an ice cream in a Tenerife supermarket, which First Choice's survey put at £2.20.
He said all-inclusives cut off a number of the pleasurable things to be experienced on holiday - and did nothing for local trade.
"From every point of view, except perhaps holiday company shareholders, all-inclusives are the devil's work. From the holidaymaker's perspective, they dampen the appetite to explore - because as soon as you step beyond the walls the meter starts running and you're incurring extra costs.
"Therefore you're not getting the range of experiences you would find if you simply used the hotel for sleeping in, and explored the options in the area."
But he said the move was a good one from a branding point of view.
"When Thomson merged with First Choice a few years ago, it meant the same company had two very strong brands. Since then there's been a lot of confusion. This year I booked a Thomson holiday but flew on a First Choice plane. Moving First Choice into a single-concept brand is a neat solution to that problem."
Related Internet Links
The BBC is not responsible for the content of external sites.