Mortgage lending still at very low levels, lenders say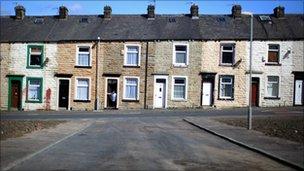 Mortgage lending is still running at very low levels, according to the Council of Mortgage Lenders (CML).
There were just 32,300 mortgages arranged with house buyers in February - 8% more than in January but still 12% down on the same month a year ago.
Recent surveys have shown that house prices have changed very little in the past six months.
The CML said that cash sales, now accounting for about 40% of all sales, were helping to prop up the market.
"The February fall in lending compared to last year was despite the fact that lending in the early months of 2010 was itself depressed following the end of the earlier stamp-duty concession," said the CML's chief economist Bob Pannell.
"But research suggests cash purchases have remained steady since the credit crunch, indicating that the housing market may be holding up better than the low mortgage lending levels suggest."
Related Internet Links
The BBC is not responsible for the content of external sites.