Barclays to inject extra funds into Spanish division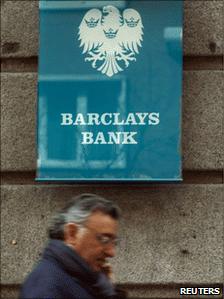 Barclays bank is to move extra funds into its Spanish division in order to meet new capital rules coming into force this year.
Barclays Spain will raise 1.3bn euros ($1.9bn; £1.1bn) to meet the Spanish government's new capital requirements.
The bank's corporate division lost money last year due to rising bad debts.
It said it was raising more money than it needed to because the outlook remained challenging.
The higher capital ratios are part of the Spanish government's efforts to restore confidence in its financial system. It means all banks must hold a "core capital ratio" of 8%.
These are funds set aside to withstand further economic shocks. The capital must be raised by September this year.
The call for further funds follows a review by the Spanish central bank in March which found that 12 banks needed more capital.
Barclays Spain is the largest foreign-owned bank in the country, with almost one million customers. It is 98%-owned by its British parent firm.
Last month, the bank announced plans to cut its workforce by 700, or about 20%, because of the poor economic climate.
The Spanish economy is struggling because of a house price crash, high unemployment and the abrupt end of a construction boom.
The European Banking Authority will name the banks that need to undergo a further stress test later.
The test is designed to see if they have sufficient funds to survive a two-year recession.
Related Internet Links
The BBC is not responsible for the content of external sites.