UK producer price inflation picks up unexpectedly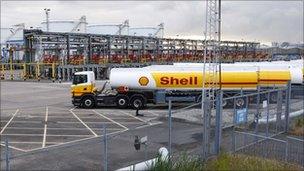 The rising prices of manufactured goods unexpectedly accelerated in March to the highest rate since October 2008, figures show.
Producer price inflation hit 5.4%, up from 5.3% in February, the Office for National Statistics (ONS) said.
Markets had been expecting a fall to 5.1%, and the news caused a brief jump in the value of sterling.
The rise will renew pressure on the Bank of England to raise interest rates.
The Monetary Policy Committee chose to hold off for the 25th month in a row on Thursday.
A large part of rise in producer prices was due to accelerating prices of food, drinks, tobacco and petroleum, which are typically more volatile than other producer prices, according to the ONS.
The oil price was the biggest factor driving prices higher in the past month.
"The Bank of England's Monetary Policy Committee will no doubt issue a collective groan at the sight of these numbers," said Chris Williamson of research firm Markit Economics.
It heightens the Bank's dilemma, as the accelerating producer prices may lead to higher consumer price rises.
"Worse may be yet to come," says Mr Williamson. "Oil prices have since hit a record high in sterling terms, and supply chain disruptions from the Japanese earthquake could also drive up prices for certain highly sought-after components."
The cost of petroleum products rose 17.9% in the year to last month, by far the fastest component of the index.
In contrast, the cost of computers and transport equipment rose only 0.7% and 0.4% respectively.
Meanwhile, the cost of inputs - materials and fuel - rose by 14.6% in March compared with a year earlier.
This was down from the 14.9% rate registered in February, which was the highest level since 2008.
But with input price inflation continuing at such an elevated level, it will put increasing pressure on manufacturers' profit margins.
Related Internet Links
The BBC is not responsible for the content of external sites.