European banks face 'tougher' stress tests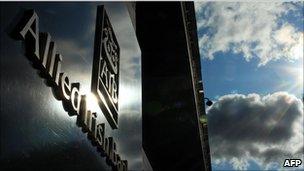 Europe's banking regulator has said that banks will be subject to tougher tests in its latest examination of their finances.
It includes some Irish banks, including one which passed last year's test but later needed a government bail-out.
The regulator wants to ensure banks have sufficient capital to withstand more difficult economic scenarios.
The new tests involve 90 banks including Royal Bank of Scotland, HSBC, Barclays and Lloyds Banking Group.
Barclays earlier announced it was moving 1.3bn euros ($1.9bn; £1.1bn) to its Spanish division to improve its reserves following government stress tests in Spain.
Included in the 90 are some banks not tested before - such as the Irish Republic's Irish Life & Permanent (IL&P) and two Norwegian banks.
IL&P was ordered to raise 4bn euros last month after government stress tests in the Republic.
Many banks previously tested are included again, such as Allied Irish Bank. It was passed last time but later needed a government bail-out.
"The scenarios provided by the EBA are more severe," Peter Hahn from Cass Business School told BBC News.
They include a European recession and a 15% drop in European stock markets.
"They'll definitely be more credible this time than last time; it couldn't be worse," said Mr Hahn.
But despite widespread worries about countries' abilities to pay back their debts, the test will not examine what would happen were any country to default.
In all cases, banks should retain a 5% tier one capital ratio. The term refers to reserves which banks could use to deal with losses.
Banks in the UK have been told to ensure they have at least 10% in reserve, whilst the new Basel III international rules say banks must hold 7% from 2013.
Certain types of capital held by some German banks may not be counted this time - meaning they may have to raise extra cash.
A survey by investment bank Morgan Stanley found that fewer than 10 banks were expected to fail the test.
Those that do will need to raise capital, sell assets or reduce their loans.
Banks who fear they may fail the test are likely to raise funds in advance.
Three banks, Germany's Commerzbank, Italy's Intesa Sanpaolo and Banca Monte dei Paschi di Siena have already announced plans to increase their capital reserves.
The results of the test are expected in June.